Accessing Canvas
Canvas can be accessed from the university self-service portal.  Login and click the Canvas icon.
You may also bookmark https://csustan.instructure.com.
Canvas Overview for Instructors
Heads up: this video mentions a button to "Create a new course". This feature is disabled at Stan State. All Canvas academic course shells are automatically created and instructor assignments automatically applied.  Should you require a blank Canvas shell for a campus organization or for testing purposes, please email oatsupport@csustan.edu.
Canvas Getting Started Videos
Getting started as an instructor 
Canvas Self-Paced Course
OAT has created a self-paced course for new Canvas instructors that provides a basic overview of the main components of the Canvas environment.  This "Canvas 101" course is available freely with no registration required.
Earn a Canvas Warrior Digital Badge
Instructors can also officially enroll in the Canvas 101 course and earn a digital "Canvas Warrior" badge that can be displayed in an email signature or other online profile.  Enrolling in the course allows you to complete graded activities to earn the badge. To request enrollment in Canvas 101, send an email to oat@csustan.edu.
Features Beyond the Course
Canvas's Global Navigation menu provides you helpful links and icons for features and functions beyond the course level. The Global Navigation houses a lot of your connectivity tools and other sub-navigation points. You will always have access to the same Global Navigation controls no matter the course or place you are in. Several of the tools you may have already been using, but to support you further, below we have links to other pages with descriptions of these robust tools. 
*NOTE: The Help tool at the end of the navigation has some options to report bugs to Canvas directly or take you back to OAT, so there is not a further help page for that particular tool.* 

Dashboard - Access Your Courses
Assigned Courses
Courses in Canvas are created by the communication between Canvas' systems and our PeopleSoft system. As with Blackboard, enrollments and courses should be created within 24 hours and therefore be available to you. From there you will access your course through an interface Canvas calls, the Dashboard.
The Dashboard is your "home base" in Canvas. All users, students or instructors see their personalized Dashboard once logged in. The Dashboard's main interface are items called your Course Cards. These colored blocks will have your course's names, nicknames, and a few other alert information. 
Course Cards
Each course that is available to a user is accessed via a colorful course card on the Dashboard. The course card contains icons that visually indicate new updates and information is available.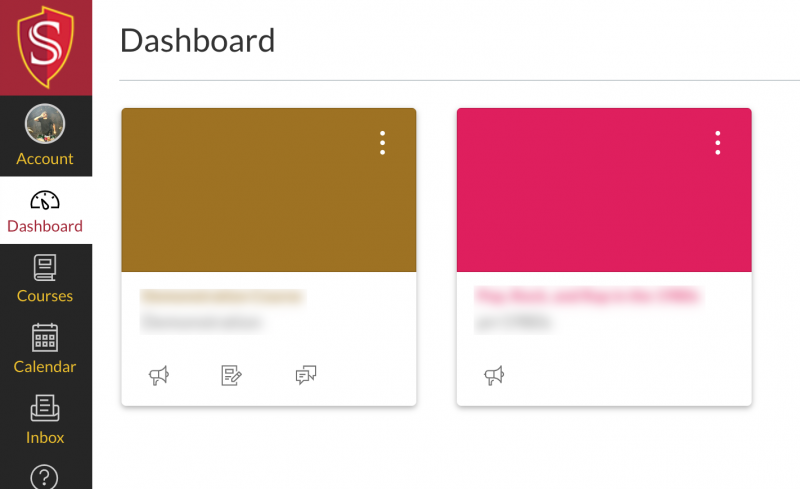 Pro Tip: Rename Courses
Often, you will encounter different instances or sections of the same course, whether in the same term or across different terms.  To help distinguish one instance from another, you have two options: create a personal nickname for the course or change it's full name for everyone to see.
How do I create a nickname for a course? (scroll down to the Create Nickname section of the page)
To change the full name, simply edit the name on the course Settings page.
To Do List
The Dashboard also has a display on the right of your screen for Global Annoucements, a To Do List, and Coming up. These alerts serve as a one-stop-shop for immediately due assignments, quizzes, and other content, as well as a place to keep organized. 
You can customize this interface by: Giving Course Nicknames, Changing the colors of the Course Cards, Applying images to the Course Cards, and setting favorites for your courses. For detailed steps on how to customize and further use the Dashboard, explore these Canvas Guides:
How do I use the Dashboard as an instructor?
How do I view course cards in the Dashboard as an instructor?
How do I use the To Do List and the side bar in the Dashboard as an instructor?
Modules
Modules House Your Content
Modules are Canvas' go to tool for organizing the various kinds of content, assignments, and activities that make up your course. They have a native navigation for "Next" and "Previous," giving the feel of chronological order, but also much more flexibility to meet the needs of your course and student learning.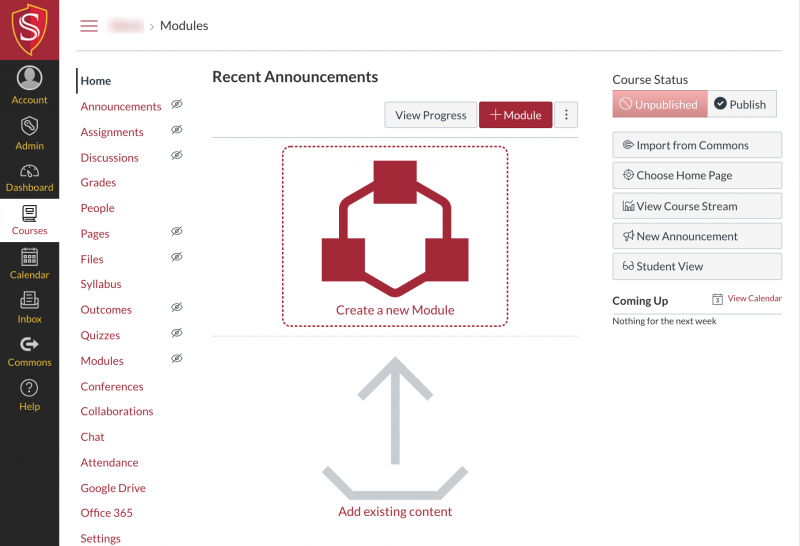 Explore these Canvas Guides to learn more.
How do I Use the Modules Index Page?
How do I add prerequisites in Modules?
How do I add requirements in Modules?
Course Navigation
Two major views
Your Course Navigation has two major views, the instructor view and the student view. As instructors, the course navigation items are all listed, except certain external tools that are not enabled by default. Other than those external tools, the text for the Navigation items will either be darker or lighter. Darker text means the navigation is enabled for use by students. Lighter text is not enabled for students and therefore won't be seen in their view of the course. 
Instructor View
Student View
Course Settings - Navigation
The ability for instructors to control what is or is not seen in Course Navigation lives in the Course Settings. Select Course Settings, then select the tab Navigation. A list of all the Navigation tools will appear. The upper portion of the list is visible and enabled, the lower portion is invisible and disabled. You can either drag and drop items from one side to another enabling and disabling as they move. Or, next to each navigation item is an options selector. This allows you to select enable or disable, as well as to direct its movement up or down in the ordered list. Use these controls until you have the navigation you want. Then, don't forget to select save!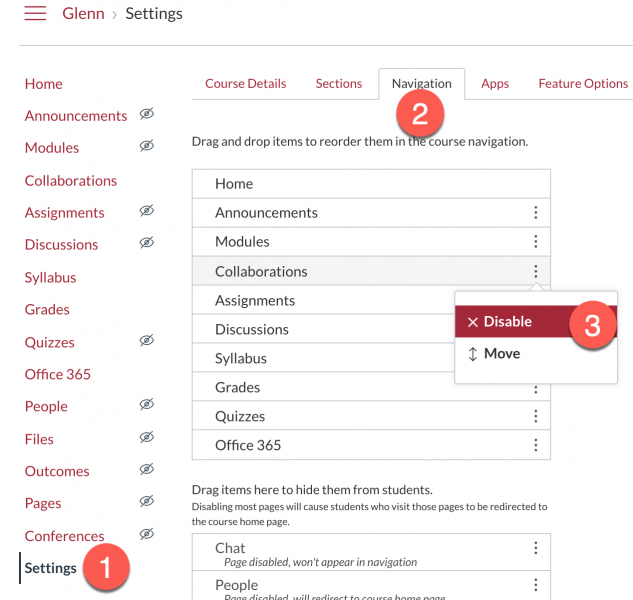 For a more detailed exploration of this tool, check out the Canvas Guide below.
How do I manage Course Navigation links?
Publishing Your Course
Your students will see your course on their Dashboard after you publish it (make it live).  Publishing a course is the responsibility of the instructor and is not automatically controlled by OAT.
Note: it is not possible to unpublish a course once students have done any work in it.
Editing Your User Profile
Help students and other instructors get to know you better. Edit your Canvas Profile by adding biographical information and a profile picture. Explore the Canvas Guide below for instructions on how.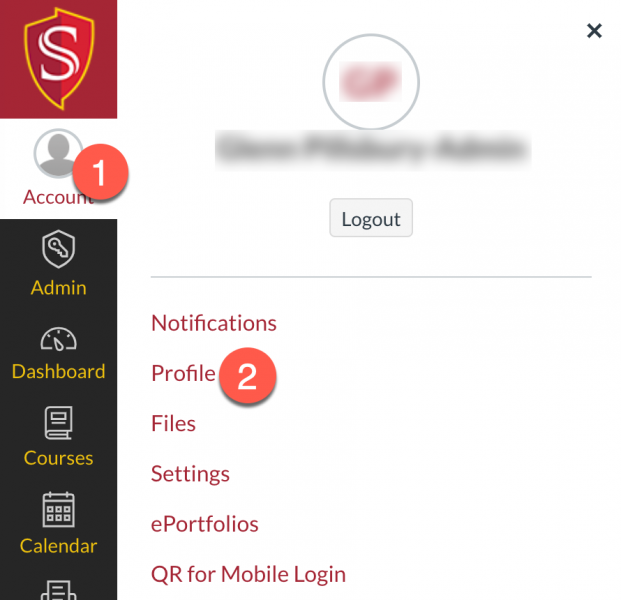 How do I edit my profile in my user account as an instructor?
Adjusting Notifications Preferences
Canvas includes a set of default notification preferences you can receive for your courses. Change your notification settings to receive fewer or less frequent notifications. Explore the Canvas Guide below for instructions on how.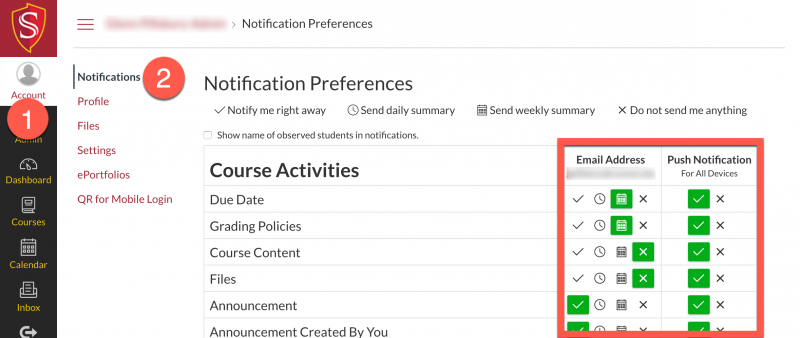 How do I set my Canvas notification preferences as an instructor?
Want to learn more?
View all Canvas Guides for Profile and User Settings
Information on this page is adapted from content created by the Center for Effective Teaching and Learning at Cal State L.A.