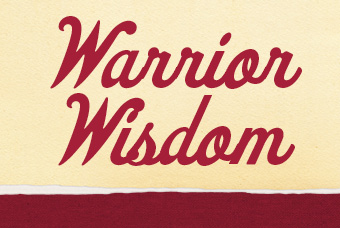 Get your red wear ready! Alumni Week, Sept. 18-24, will bring opportunities to showcase school colors and spirit. Besides weekend happenings and a downtown festival mid-week, this year the University is arranging small gatherings of alumni and alumni-to-be, tapping the experience of the wider Warrior community to help students.
Warrior Wisdom events will offer a chance for mentoring and networking with the next wave of Warriors, said Marlene Stante, Class of 1972. Stante, now a senior region manager for Bank of the West, will be at a Sept. 19 event with students.
"I hope that perhaps I can answer some questions for them about their most challenging times in school and also inspire and encourage them to think outside the box for their career journey," Stante said. For example, she added, a psychology degree could build skills useful in business.
Stante, who is also on the Stan State Alumni Council, said mentoring students is one of the Council functions she most enjoys. "I enjoy the process," she said. "As a mentor, I need to listen a lot more than I talk. It is not my job to make a decision for you, but to help guide you through all facets to be considered as you make decisions."
Chad Cummings, Class of 2011, will be part of a Warrior Wisdom panel on Sept. 21 discussing the importance of networking and how students can best market themselves as Stan State graduates. Cummings is director of sales and marketing for JKB Energy.
His message to students will be to learn from those who went before, he said. "It's vital to surround yourself with individuals that have more experience and greater perspective than yourself." Alumni have job search insights, he added, "They can give insights to the benefits and challenges you may experience in the job market depending your degree type, age or prior work experience."
As an employer, Cummings values a Stan State degree. "Professionally, I have found excellent staff members by staying actively involved with my alma mater," he said. "Personally, I have benefited by getting to hire such young and talented graduates. Their curiosity and critical thinking keeps me sharp. It's also incredibly rewarding to be a part of a younger generation of business leaders."
He also advises developing relationships and staying in touch with faculty, who often have connections in the field. "It's harder than ever to find qualified staff that also have integrity and good work ethic. When a former professor personally recommends a student to interview, I can trust their judgement 100 percent," Cummings said.
Coming back to the University goes beyond nostalgia, Stante said, "Those who have not been back in a while will get a chance to see how the campus has changed."
Alumni are welcome to share their Warrior Wisdom throughout the year, discussing professional fields with classes, hosting students at a dinner, helping out at University events or advocating for Stan State and the CSU system. For more information, contact Lisa McMullen at lmcmullen@custan.edu.