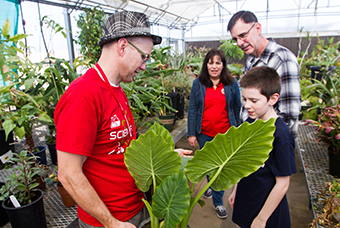 Students of all ages and their families will be invited to learn about the sciences at the sixth annual Science Day, hosted by the College of Science, on Saturday, Feb. 11.
The event, which is filled with interactive presentations and displays, was inspired by the need to reach students early and spark their interest in science as a possible academic and career pathway.
"Science Day came from a desire to get people in the community excited about science," Grobner said. "It also gives our students a chance to interact with the public and maybe get our students interested in teaching science."
More than 2,300 people came to campus for the 2016 Science Day, which introduced the visitors to scientific fields through guided tours of the Stan State science buildings, displays and talks on skeletons and fossils, displays of chemistry in everyday life, a walk through a snake display and six-legged zoo and general introductions to the fields of biology, chemistry, math, nursing, physics and psychology.
"The mission of all of our outreach is to excite people about science, give our students a chance to work with the public and better prepare incoming students for academic study in STEM fields," Grobner said.
Science Day, while the largest annual public event hosted by the College of Science, is only one of the outreach programs designed to spark curiosity in the college's fields of study.
The College of Science also is running a STEM Ambassador program, which places Stan State science students in junior high and high school classrooms to teach classes in the areas of science, engineering, technology and math. Some of these programs start at the kindergarten level — the earlier, the better.
"This is a program that gives our students a chance to get into the classroom and practice some teaching techniques," Grobner said. "They'll find out if they want to be teachers at the same time we're getting young kids excited about science."
In addition, the College of Science runs tutoring and mentoring programs in many of its fields. The college's public programs are organized by STEM outreach coordinator Miriam Ureno Moreno, with assistance from the University's Office of Service Learning.
Stan State is involved with the Delhi Unified School District's direct approach to engaging young minds through the Delhi Medical Academy of Science, which puts junior high and high school students through career-oriented medical field training. The University also has an advisory role in a similar program in Le Grand during the summer months.
"If we get students from our region interested in going to medical school, there's a better chance at getting them to come back to our area once they're doctors as opposed to someone who didn't grow up here," Grobner said. "I see a lot of our former students coming back to the area."
The College of Science was also recently awarded a $5.8 million grant from the Department of Education to fund a program designed to help improve freshman and transfer student retention and graduation rates in the STEM fields and a $3 million grant from the National Science Foundation to support students in computer science programs.