Camp Director - Dr. Daniel Davies
Senior Band/Orchestra - Stuart Sims, David Vickerman
Senior Choir - Dr. Daniel Afonso, Jr.
Senior and Junior Jazz Ensemble - Joe Mazzaferro
Junior Orchestra - Leah Carl
Junior Band - Larry Colón
Junior Piano - Joyce Lin-Davies
Advanced Piano - Benjamin Boren
String Coach - Bogdana Krasteva
Percussion - Divesh Karamchandani
Josh Bennett - Clarinet, Electro-Acoustic music
Chelsea Costa - Musical Theater
Derek Stein - Cello/Strings, Non-Jazz Improvisation
Counselors- 2013 Camp
Sinella Aghasi

Sinella is a junior at CSU Stanislaus, where she is pursuing her Bachelor's degrees in music education and violin performance. Sinella is currently studying the violin with Mr. Geoffrey Mulder. She was accepted into the music high school of Tehran-Iran at the age of 11 and earned her diploma in music specializing in the violin with a minor in voice. Sinella has performed in different countries and cities as a violinist and vocalist. Sinella is the assistant conductor of Modesto Symphony Youth Orchestra, and she enjoys very much teaching younger students. She plans to pursue her masters degree in violin performance.
Joban Aguilar

Joban Aguilar graduated from Livingston High School in 2010 and was admitted into CSU Stanislaus the same year. Since then, he has become a music major concentrating in Jazz Studies and Instrumental Education. He's played in the CSUS Wind Ensemble, Jazz Ensemble, and various jazz combos throughout his college career. Joban has been playing saxophone for almost five years, flute for four years, and he has experience with mallets as well as some vocal training. He is a brother of the Nu Zeta Chapter of Phi Mu Alpha Sinfonia Fraternity of America, Inc. and has served his chapter as Alumni Relations Officer, President, and Fraternity Education Officer. Mr. Aguilar is very excited to help out as a summer camp counselor and he looks forward to interacting with the students of this program as they grow in their musical careers.
Sarah Barr

Sarah Barr has been playing clarinet for 10 years and teaching for 3 years. She is a sophomore at CSU Stan and graduated from Johansen High School in 2011 with several music awards. She is excited to be working for the first time at S.M.A.S. and looks forward to a great year!
Luke Bergthold
-
Grace Carrillo

Gracie Carrillo is a Trumpeter and Composer. Currently, she is pursuing her bachelor's degree in Music Composition and Communication studies, with a minor in Journalism. As a music go-getter, she loves to work with children and adults to pursue their knowledge in music. She has been involved with many music festivals, culturally and locally. In part of her active participation, she has been involved in encouraging music and integrating a brass workshop annually at the Children's Home of Stockton. She is currently constructing an honors thesis with her mentor, Dr. Stuart Sims. The subject peruses the encouraging world of "audience development in the music industry." This undergraduate thesis is an articulated and informative research about the significance of the arts on the national and international level. In part of her active duty as a composer, recent recognition from, The Signal, a student newspaper at CSU Stanislaus, has recognized her recent piece, "A Dream Within A Dream," text written by Edgar Allen Poe. She aspires to enroll in a graduate school that pursues her to study film scoring, conducting, and journalism. She hopes to accomplish her studies that will place her as a renowned conductor, film scorer, and music critic. 
Erik Edwards
-
Rogelio Garibay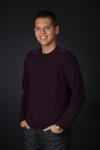 Rogelio Garibay is a 2008 John H. Pitman High school graduate. During his senior year of high school, he was chosen to perform in the NCBA Honor Band and The Cal-Poly All State Honor Band. He is now a senior at CSU Stanislaus, where he continues his studies to complete his degree in Music Education and Euphonium Performance. Rogelio's post-graduate plans include teaching high school level bands, and shortly thereafter, returning to school for his Master's degree.
Lisette Konynenberg
-
Carlos Miramontes
Carlos Miramontes is a Music Education major at CSU Stanislaus with an emphasis in Percussion. Outside of school, Carlos enjoys performing with percussion ensembles in a competitive state (DCI/WGI). For the past two Summers, he was involved with the Sacramento Mandarins Drum and Bugle Corps and traveled the US competing against other groups.
Erin Nishimori

Erin Nishimori, a 2009 Lodi High School graduate, is a senior at CSU Stanislaus, where she is pursuing a Bachelor's degree in Music concentrating in trumpet performance and instrumental music education.  She has studied trumpet with Leonard Ott, Richard Roper, Kent Mikasa, Kathryn Adduci, and is currently studying with John Freeman.  In addition to her studies at CSU Stanislaus, Erin has been the Coordinator of the annual Central Valley Band and Orchestra Festival, the Registrar and one of the head counselors for Summer Music at Stanislaus, and President of the Theta Epsilon chapter of Sigma Alpha Iota International Music Fraternity.  Upon graduation, Erin plans to pursue a career in Arts Administration and hopes to return to school for a Master's degree in Baroque Trumpet Performance.
Ashley Shine

Ashley Shine is a senior at CSU Stanislaus and graduated in the class of 2008 from Hilmar High School. She has been playing saxophone for 12 years.   She has been studying under saxophonist Kevin Stewart and is majoring in Music Education in hopes of becoming a high school music director.  She plans on expanding her career by earning a Master's degree and teaching at a college level after teaching in a high school dynamic.
Monica Silva

Monica Silva is a senior at CSU Stanislaus pursuing a bachelors degree with an emphasis on Music Education and Flute Performance. She has studied flute with Caryl Scott and is currently under the direction of Dr. Jennine Dennis. Working with children and teens in the field of music is what she has always known she was meant to do. She has a great passion for teaching and cannot wait until she becomes a band teacher.
Christopher Singh

Christopher Singh- has been playing clarinet for thirteen years. Graduated high school from Los Banos High in 2004, transferred over from Merced Community College in 2007 and now is a Music Education major at CSU Stanislaus. Christopher hopes some day to teach at a college in Oregon but for right now he is happy teaching kids and watching them learn and have fun.
Justin Swicegood
-
Contact Us
Summer Music at Stanislaus
California State University Stanislaus
Music Department
One University Circle, Turlock, CA 95382
Phone:
(209) 664-6654
Fax:
(209) 664-7027
Email: 
ddavies@csustan.edu
Summer Music at Stanislaus-
Dedicated to encouraging young musicians to reach their highest potential