Coordinator of Theory Studies and Composition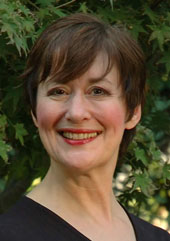 Deborah Kavasch, composer, soprano, and specialist in extended vocal techniques, has received grants and residencies in composition and performance from the National Endowment for the Arts, the California Arts Council, the Djerassi Foundation, The Barlow Endowment Lecture Series, the Ernest Bloch Music Festival and Composers Symposium, the Donne in Musica International Festival and Symposium, and the International Congress on Women in Music, and was a 1987 Fulbright Senior Scholar to Stockholm. She has had works commissioned and performed in North America, Europe, the United Kingdom, and China, and has appeared in concert in major international music centers and festivals. Her extensive range and unique vocal capabilities allow her to assay the traditional repertoire as well as the highly demanding vocal acrobatics of much of the contemporary scene. Her compositional output features much solo and solo vocal chamber music as well as choral works and instrumental solo, chamber and large ensemble compositions.

Dr. Kavasch frequently presents on new music and women in music conferences and festivals, has premiered many new works, and has been described as a "multifaceted, multi-timbral vocalist" with "articulate radiance" (Los Angeles Times) and "astonishing range and agility" (Cleveland Plain Dealer). Her two CDs of original works, The Dark Side of the Muse, and Fables & Fantasies, were released under the TNC Classical label. She holds the B.A. in German and B.M. and M.M. degrees in Music Theory/Composition from Bowling Green State University, Ohio, and the Ph.D. in Music from the University of California, San Diego. Dr. Kavasch is the Coordinator of Music Theory/Composition at California State University, Stanislaus, where she has been a faculty member since 1979.
Contact Information
Building Location:
Music
Building #6: - See Map
Office Location:
M 5 - See Map
Phone: (209) 667-3422
E-mail: dkavasch@csustan.edu