Go Farther (While Living Closer)
Not only are the residence halls less than an 8-minute walk from any building on campus, they are also staffed 24/7, gated, and secured. Attend a recreational activity, academic workshop, or social event with your roommates or floormates after class or on the weekends. 
We are here to help you achieve your goals, whatever they may be. 
Benefits of Being a Village Warrior
When you live on campus, you have access to...
On-site Coordinator for Residential Education
Peer Academic Leader and Resident Assistant 
On-site tutoring
Study Nights
Floor and Community events
Off-campus events and activities
Academic Wellness workshops
Faculty-in-Residence workshops and socials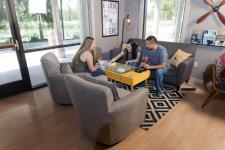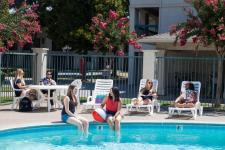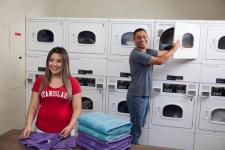 Amenities for All
Inside the Village you'll find:
Community
Safe, gated community with keycard access
24/7 Staff Assistance
Game Room with Pool Table, Ping-Pong, Darts, and Foosball
Walking Distance to Student Recreation Complex and Fitzpatrick Arena
Free Laundry in Multiple Laundry Rooms
2 Computer Labs with Free Printing
Multiple Study Rooms & Meeting Spaces
Warrior Express Shuttle
Sand Volleyball Court + 2 Basketball Courts
Community BBQs
2 Swimming Pools + 1 Jacuzzi
Residential Life + Academic Hubs
Bike Storage
Village Cafe 
Less than 10-minute walk to any building on campus
In-Room
No Cap on Utilities
Monthly Courtesy Clean of Bathroom & Kitchen
Premium Cable (must have QAM tuner)
Online Maintenance Requests
On-Call Lockout Service
WiFi
Let our Move-In Checklist be your guide. Think of it this way: we provide the essentials, and you bring the fun stuff and your personal stuff! 
When packing your surge protectors and power strips, decorative lights, extension cords, or other electrical devices, make sure to look for a UL-Approved tag.
UL-Approved electrical devices pass safety testing and ensure that a product is properly manufactured and designed. The risk of malfunction, potentially causing a fire or hazard, is much less than a non-UL-approved device.
If a product does not have a UL sticker (typically on the back), it is not allowed and may be subject to confiscation. Not sure what sticker to look for? Visit the UL website for more information. 
Each bedroom comes with a Twin XL mattress and bedframe, desk, desk chair, drawer set, trash can, and closet. Your bedroom door is able to be locked via your keycard, which you'll also use to access your unit. Items we recommend bringing include:
Twin XL Bedding
Pillow(s)
Alarm Clock
Laundry Hamper
Clothes Hangers
Laundry Detergent
Command Strips or Push Pins (not double stick tape)
Decorations
Television
Non-Halogen Desk Lamp
Tension Rods for hanging curtains (all windows do come with blinds)
Each bathroom has a toilet room, two sinks, mirror, trash can, and shower area. Items we recommend bringing:
Shower Caddy
Towels and Washcloth
Toiletries
Toilet Paper
Hair Dryer
First Aid Kit
While some of these items can be purchased with your meal plan, we suggest bringing these items for spaces such as your kitchen, living room, and study spaces:
Dishes and Silverware
Drinkware
Cleaning Supplies
Dish Soap
Garbage Bags (6-10 Gallon)
Television
Face Covering
Hand Sanitizer
Disinfecting Wipes
Hand Soap
Thermometer
Health Insurance Card (or photos of your card)
There are some restrictions on what is allowed inside a unit. Please do not bring:
Furniture (it's provided!)
Microwave or Refrigerator 
Bed Risers
Candles/Incense/Wax Melts or Other Flammables
Space Heater
Hot Plates
Weapons
Incoming residents will receive a Move-In Checklist prior to Move-In Day as part of their Housing Welcome Kit. Welcome Kits are sent virtually to Stan State email accounts. 
Updated: November 19, 2021