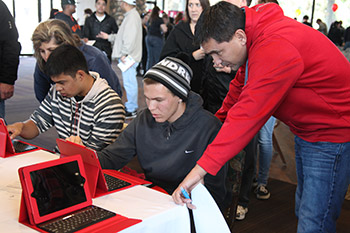 The online housing application for 2017-2018 will be available at 9a.m., Wednesday, January 18, 2017..  Roommate search and selection, as well as room self-selection are based on the date your complete application was received.
Applications received by 4:00p.m., Friday, March 3, 2017 will be in the 1st Round of Roommate Placement.
Prior to beginning the online application, it's good to know a little bit about how the process works.
To complete the application you'll need to have a couple of things handy:
MyCSUSTAN ID and password
Debit card/credit card – This will be used to pay your deposit at the end of the application process.
Health insurance information
Contact information for your financial guarantor/co-signer if you are under 24 years old – This person will share financial responsibility for the cost of your housing. You'll need to provide basic contact information including: first & last name, address, phone number, etc.
A complete application consists of the following:
Completion of the online application, including the electronic signature sections
Submission of the Financial Guarantor form for anyone under 24. 
Payment or deferment of the Deposit.
"I like living on campus because I can get help from an Academic and Career Advisor right here in housing. It helps me plan for my future."
~ Billy, Physical Education major from Moreno Valley, CA
---
Have questions? Check out the Frequently Asked Questions to find the answer.
Still have questions? Call or email us at (209) 667-3675 or housing@csustan.edu