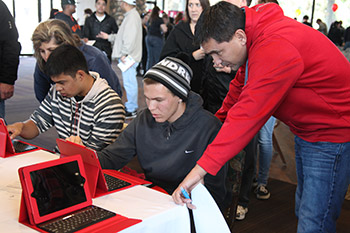 The Housing Application for 2019-2020 opens to current housing students on Feb. 4th and new housing students on February 11, 2019.
To complete an application:
Submit an applicaiton online, make sure to include the electronic signature sections.
Submit the Financial Guarantor form if you are under 18.
Pay or Defer the Deposit.
To complete the application you'll need:
MyCSUSTAN ID and password
Debit card/credit card – This will be used to pay your deposit at the end of the application process.
Health insurance information
Contact information for your financial guarantor/co-signer if you are under 18 years old – This person will share financial responsibility for the cost of your housing. You'll need to provide basic contact information including: first & last name, address, phone number, etc.

"I like living on campus because I can get help from an Academic and Career Advisor right here in housing. It helps me plan for my future."
~ Billy, Physical Education major from Moreno Valley, CA
 

Have questions? Check out the Frequently Asked Questions to find the answer.
Still have questions? Call or email us at (209) 667-3675 or housing@csustan.edu