The Maturing Pen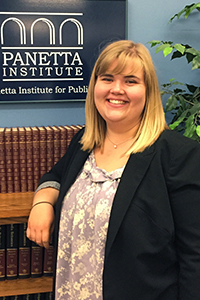 ​As an energetic fifth grader in the halls of Dutcher Elementary, I vividly remember my teacher announcing it was time to begin the annual "Presidents' Report." This was no easy task, and it was viewed as a rite of passage for elementary students.  It was the first time I was asked to produce writing of quality, and I was excited to learn which president I would be writing about.  I chose a name out of a hat.  Millard Fillmore.  The name was foreign to me.  My excitement dwindled as I realized I was being asked to discuss the thirteenth president who had little relevance to me. The report I anxiously waited to write all year was now a chore.  I struggled, and I became frustrated with writing.
My opinion of writing remained stagnant until several years later when my high school English teacher took students to San Francisco to see the author Salman Rushdie.  It was there in the auditorium, surrounded by hundreds of others, where I realized I had never previously understood the power of writing.  I was awakened to the reality of using writing to communicate, persuade, and help me to succeed in various aspects of life. My thoughts shifted; I began to view writing not as a mechanical task, but as a process of participating in a complex dialogue. 
Today, as I navigate my way through the university, I have realized that answering questions develops into asking new questions as I contribute to the community of writers, readers, and critical thinkers.  Academically, writing has become my way to communicate complex ideas to a world much larger than I previously knew.  In a growing and changing modern society, academic writing has proved vital in my experience, contributing to the discourse about ever-changing pressing issues.
Looking toward my future, I will continually reflect on my past successes and failures.  I am able to excel and emerge as a leader when my writing reinforces my commitment and passion to contribute to the changing world.  To be academically successful, I am required to think and write critically while adding to the ongoing discussion.  Quality writing requires time for development, revision, and the desire to constantly improve.  The ability to produce writing of quality will prove to be valuable in achieving success throughout my academic experience and professional career. 
When I first began to write, it was a task needing completion, an obstacle to be surmounted.  I worked on it, but I was unsure where it would take me on my journey. There will be times when I recall the feelings of unfolding Millard Fillmore's name.  However, instead of losing hope, I will continue to develop and strive to become a stronger writer, which will help me succeed in the future.  I understand that writing is paramount to my success.  Writing is not a means to an end, but rather the powerful nexus in communicating and expressing my maturing thoughts with the world that surrounds me.