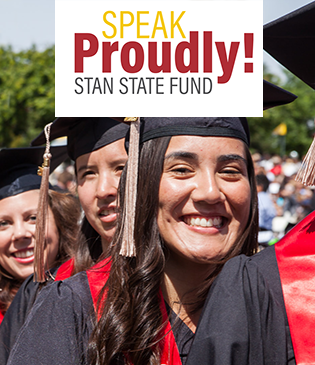 The "Speak Proudly! Stan State Fund" was established so that alumni and friends could be active participants in spreading their pride for Stanislaus State. Pride grows with support from you. Your contribution to the "Speak Proudly! Stan State Fund" can be directed to one of the areas listed on the response device. Contributions are used for initiatives that benefit students, programs and various scholarly activities.
Demonstrate your pride for Stan State by making a gift today!
For more information about supporting Stanislaus State, contact us at (209) 667-3131 or allaboutgiving@csustan.edu.
Did you know about these recent rankings?
National Public Radio – Amy Laitinen, Dept. of Ed. Advisor, has Stanislaus  No. 5 in the nation for the "upward mobility" of its students.
Money Magazine – ranked No. 3 overall and No. 1 among public universities among schools that best help students "exceed expectations."
Princeton Review – listed among top 380 schools in the  country for the 10th straight year.