Event date
Thursday, October 10, 2019 - 8:00pm

to

Sunday, October 20, 2019 - 2:00pm
Location
The Studio Theatre, D 40
Who's invited
Campus Community & Public
Contact
Theatre Department
Phone
(209) 667-3451
Email
kevans1@csustan.edu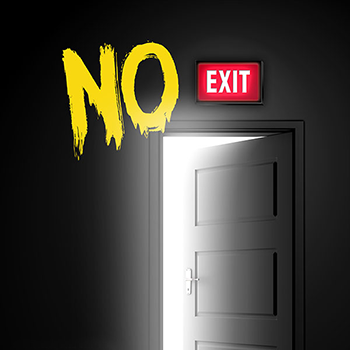 "No Exit" a play by Jean-Paul Sartre. Three damned souls, Joseph Garcin, Inès Serrano, and Estelle Rigault, are brought to the same room in Hell and locked inside by a mysterious valet.
Production time & dates (no late seating, doors close promptly)
8:00 p.m. - October 10-12 & 17-19
2:00 p.m. - October 13 & 20
General Admission - $10
Students, Seniors, Veterans - $8
If you need assistance for ticket purchases, call the department office (209) 667-3451.
The play begins with three characters who find themselves waiting in a mysterious room. It is a depiction of the afterlife in which three deceased characters are punished by being locked into a room together for eternity. It is the source of Sartre's especially famous and often misunderstood and the perpetual ontological struggle of being caused to see oneself as an object from the view of another consciousness.
---
Complimentary parking for the performances will be available in Lot 2.
Event Accommodations
Persons with disabilities who anticipate needing special accommodations or who have questions about physical access may email kevans1@csustan.edu or call (209) 667-3451 in advance of the event.