Event date
Monday, February 22, 2021 -

5:00pm

to

7:15pm
Location
Zoom
Who's invited
Campus Community and Public
Contact
Cueponca M.Sandoval
Phone
209-667-3258
Email
csandoval27@csustan.edu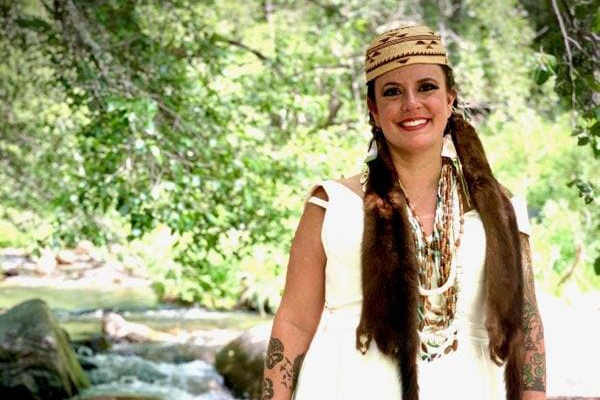 Accessibility Information
Persons with disabilities who need accommodations or have questions about access may contact the program sponsoring the event, as listed above.
Event Details
A Case Study of Program Advocacy for the Native Community at a California Community College
This presentation will provide an in-depth explanation of the process, challenges, and triumphs of Social Justice Curriculum Advocacy for Native Students at a California Community College. The focus of this curriculum advocacy centers on programming: what does advocacy look like when you are creating something? The presenter will share their experiences as they advocated for better serving their Native Community in Higher Education.  
---
Stephanie Beaver-Guzman (Hupa/Yurok) is an enrolled member of the Hoopa Valley Tribe. Stephanie is a Native drummer, dancer, singer, and artist. She lives in the Motherlode with her husband and daughter.
Stephanie is a faculty member at Columbia College, in Sonora, California, where she works as a Counselor. She is a Counselor for the Extended Opportunity Program and Services (EOP&S) Program, Foster Youth Program (Phoenix Scholars), and TRiO Student Support Services (SSS) Program.  Stephanie has been providing academic, educational, career and personal counseling to college students for six years. Stephanie is also a consultant for the Tuolumne Band of Me-Wuk Tribal Social Services Department. She coordinated and implemented a Community Needs Assessment for a grant funded by the Office on Violence Against Women (OVW) Department of Justice. She continues to serve in this tribal consultant role to develop programming to engage Native men, boys and community members in the prevention of Domestic and Sexual Violence in Native Communities.
Upon beginning her position at Columbia College, Stephanie created and implemented a student services program for current and foster youth attending Columbia College, and has developed and maintained partnerships with local agencies throughout Tuolumne, Calaveras, Mariposa, Amador counties. With the support of campus administrators, Stephanie has also developed a Native Partners Committee specific for building and maintaining partnerships with the regions' local tribal agencies and specific tribal governments. Stephanie serves as co-chair for the Columbia College Student Success Council, as well as a co-chair for the Cultural Enrichment Committee. She has developed and coordinated annual Native American-based lecture series for the campus and local community regarding Native American topics.
Stephanie is in her final stages of her Doctorate in Educational Leadership (Ed.D) from California State University, Stanislaus. Her dissertation work for her Doctoral Program in Education, Educational Leadership centers around decolonizing academia and educational systems and better understanding the experiences of Indigenous women as they navigate cultural, community, and academic contexts. She is a member of the Honor Society of Phi Kappa Phi.
Stephanie earned her Master's degree (MA) in Counseling from Saint Mary's College of California, and her Bachelors in Science (BS) in Human Development from the University of California, Davis. She earned her Associates degree (AA) in General Education from Yuba College/Woodland Community College. She has over ten years of experience working in the community college system prior to transitioning to a faculty counselor. Her personal experiences have directly shaped her professional path, as she was a low-income, first-generation college student who had been in the foster care system. She seeks to support populations of which she closely identifies with, such as Native communities, current and former foster youth, and those individuals and agencies who work with these populations.
Stephanie is a professional public speaker regarding numerous topics.  Stephanie has been publicly speaking about her experiences in the foster care system since 2012. Stephanie has been a keynote speaker at events throughout the region on topics relating to implicit bias and cultural awareness, resiliency and determination, foster youth, using higher education to transform ones' life, and advocacy for Missing and Murdered Indigenous Women and Girls. She has also presented at regional and statewide academic professional conferences.