Event date
Tuesday, November 7, 2017 - 11:00am
to
Thursday, November 9, 2017 - 9:00pm
Location
MSR 130, South Dining, Snider Recital Hall, MainStage Theatre & University Art Gallery
Contact
College of the Arts, Humanities & Social Sciences
Phone
(209) 667-3531
Email
cahss@csustan.edu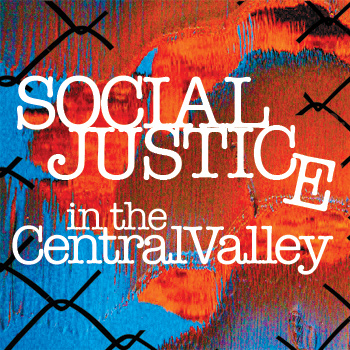 Social Justice in the Central Valley: A Community Focused Conference represents a signature event for Stan State's College of the Arts, Humanities and Social Sciences. The speakers featured on this year's conference program are reflective of the broad spectrum of academic areas of study supported by our faculty, and draw on expertise and creative talents across the arts (with spoken word, hip hop, theatre, installation art), the humanities (with creative media, narrative documentation, ethical voice), and the social and cultural sciences (with attention to local, national, global human rights, immigrant, race and ethnic exposures, and community activism). The variety of voices drawn together for this conference bring us face-to-face with complex struggles for social justice, inviting us to engage with a listening ear and an open heart and mind. We hope you can make it!
Tuesday, November 7 – 11:00 a.m. - 9:00 p.m.
Wednesday, November 8 – 10:00 a.m. - 9:00 p.m.
Thursday, November 9 – 11:00 a.m. - 10:00 p.m.
Visit Social Justice in the Central Valley website for more event information, speaker bios and conference schedule.
Open to the Public