Event date
Thursday, February 14, 2019 - 5:30pm
Location
FDC 118
Who's invited
Campus Community (Students, Faculty & Staff)
Contact
Dr. Blake Wilson
Phone
(209) 667-3426
Email
mwilson15@csustan.edu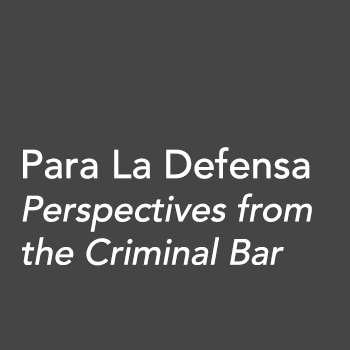 The Department of Criminal Justice presents
Para La Defensa: Perspectives from the Criminal Bar
The campus community is invited to hear our guest speakers describe their lives in the law, from early family and education experiences to college and law school to their present careers as prominent attorneys defending the indigent accused. Their experience with marginalized and underrepresented populations reflect their commitment to the rule of law, social justice, and equality. Please join the Department of Criminal Justice in welcoming these distinguished professionals to our community for an exciting and informative evening that will address issues related to mass incarceration, the war against drugs, and the death penalty.
---
Speaker Bios

Cristina Bordé is a Supervising Attorney at the Wisconsin Innocence Project (WIP). Prior to working at WIP, Ms. Bordé represented death row inmates in post-conviction for 14 years at the Habeas Corpus Resource Center in San Francisco. She was lead counsel in the case of Vicente Benavides, who was exonerated and released after 25 years on death row. She also represented Mario Vasquez, a Wisconsin inmate who was exonerated after spending 17 years wrongfully incarcerated. Ms. Bordé has trained law students and presented at conferences on topics such as investigating child abuse cases, working with experts, and identifying common causes of wrongful convictions in cases of Latino inmates.
Matt Gonzalez is the Chief Attorney of the San Francisco Public Defender's Office. He graduated from Columbia University and Stanford Law School and previously served a term on the 11-member San Francisco Board of Supervisors. He has tried criminal and civil cases, in both the state and federal courts, including numerous federal civil rights cases.
He is a recipient of the Lawyer of the Year award from San Francisco's La Raza Lawyers Association, and the Bert Corona Award from California's Mexican American Political Association for his work creating the highest minimum wage in the country. Along with Francisco Ugarte, Gonzalez is the co-recipient of the 2018 Defender of the Year award from the California Public Defender's Association for their work on the Jose Ines Garcia Zarate trial.
Active in 3rd party politics, Gonzalez was Ralph Nader's Vice-presidential running mate in 2008.
He is a native of McAllen, Texas.