Assistant Professor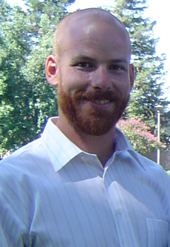 Daniel Deisenroth is an Assistant Professor in the Department of Economics at California State University, Stanislaus. He completed his Ph.D. in Agricultural and Resource Economics from Colorado State University in August, 2011. His dissertation is entitled "Accounting for Spatial Substitution Patterns and Bioeconomic Feedback Loops: An Economic Approach to Managing Inland Recreational Fisheries." The first chapter of his dissertation will be appearing in the Journal of Aquaculture Economics and Management in late 2011. While earning his Ph.D., Daniel also taught introductory economics classes at three separate institutions, and earned the North American Colleges and Teachers of Agriculture and Colorado State University's College of Agriculture "Graduate Student Teacher of the Year" award in 2011.
Prior to starting the Ph.D. program in 2008, he completed his MS (also from Colorado State University) in Agricultural and Resource Economics. The research he conducted for his master's thesis on non-market valuation of off-highway vehicle recreation appeared in the Journal of Environmental Management in 2009.
Between 2005 and 2006, Daniel worked as a classroom laboratory manager at UC Davis (undergraduate biology), and from 2001-2005 he completed is BS degree in Biology, emphasis in Evolution and Ecology. He also earned a minor in Managerial Economics, which is where he found his passion in Environmental and Natural Resource Economics.
Outside of academics, and outside in general, Daniel enjoys bouldering, fly fishing (as well as other fishing), hiking, backcountry travel, building and driving 4x4s, weightlifting, mountain biking, road biking, snowboarding, snowshoeing, construction, landscaping, cooking, travel, Japanese culture, and Chopin.
Contact Information
Building Location: Dorothy & Bill Bizzini Hall
See Building #2: Map
Office: C123A - See Map
Office Hours:
In C-123A
MW: 10:00-1:00pm
And by appointment
Phone: (209) 667-3420
FAX: (209) 667-3588
E-mail:
DDeisenroth@csustan.edu