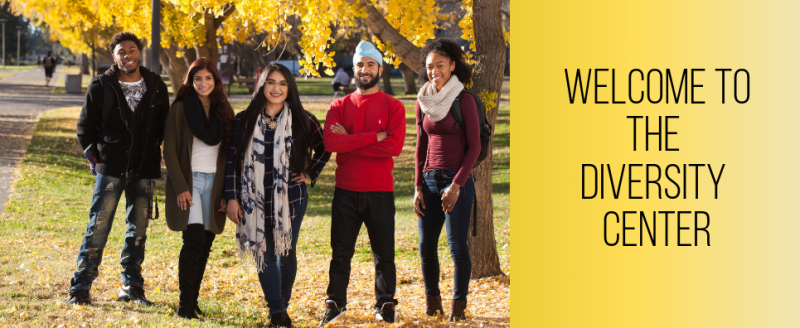 Vision
The Diversity Center aims to provide a sense of belonging for members of our campus community and advocate for an inclusive and respectful space for students from all backgrounds. This includes but is not limited to; race, ethnicity, nationality, sex, sexual orientation, gender, gender identity, creed, religion, age, social class, socioeconomic status, physical and cognitive differences, political views, immigration status and veteran status. Through a wide range of programs, we collaborate with different campus partners to provide welcoming spaces, affirmation and validation for individuals and student groups.
---
Services
Intimate Study Space
Reading Nook
Social Justice Library
Complimentary Coffee & Tea
Afternoon "Equi-Tea'' Time
Mindfulness Corner
Undocumented Student Services
Conference Room Space
Social Justice Coffee Hour
Workshops
Ally Trainings
Inclusive Resources & Much More!
---
Calendar of Events - Coming Soon!
---
Get Involved
To submit a workshop idea or to volunteer at the Diversity Center, please contact diversitycenter@csustan.edu
---
Mission Statement
The Diversity Center strives to develop our students intellectually, personally and spiritually, with regard to social justice and inclusion. We have firmly established a place on campus for students to find support, have courageous conversations about the things that matter to them in a supportive environment, and discuss what is happening on an individual, community, and national level. Social justice work is about both the intellect and the heart - perspective taking and intersectionality are foundational themes that run through the Diversity Center.  We work to empower underserved communities while challenging systems, hegemonic thinking and policies, and traditions that maintain inequities in our society.  The Diversity Center empowers our community by educating students, campus stakeholders, and community partners with the goal of creating a socially just living and learning environment on campus that is inclusive, affirming, and just.  This kind of work is foundational to the practice of Student Affairs, helping students to succeed in becoming global citizens.