On-Campus Testing
HR Support Pros is partnering with Stanislaus State to provide free COVID-19 testing to students, faculty, staff and the general public at the University's Turlock campus. Testing is free for all insurance types and for those without insurance.
Testing is available M-F.
9 a.m. to 4 p.m.
Monday-Friday
One University Circle, Turlock in Parking Lot 11 (enter at Andre Lane)
A PCR nasal swab test is available at no cost for all insurance types and for those without insurance.
Pre-registration on the lab website is strongly recommended for faster on-site service.
Drive-thru testing is available to everyone. However, arrangements have been made to serve Stanislaus State faculty, staff and students at a specific walk-up site in the far east section of Lot 11.
Bring a photo ID and insurance card (if applicable). Campus community members must present a Stan State ID (or bring your ID number) to access the walk-up site.
Testing is available for all ages. Minors must be accompanied by a parent or guardian.
Test results will be provided by e-notification.
If you experience trouble receiving results after five (5) business days, call HR Support at (308) 244-4581.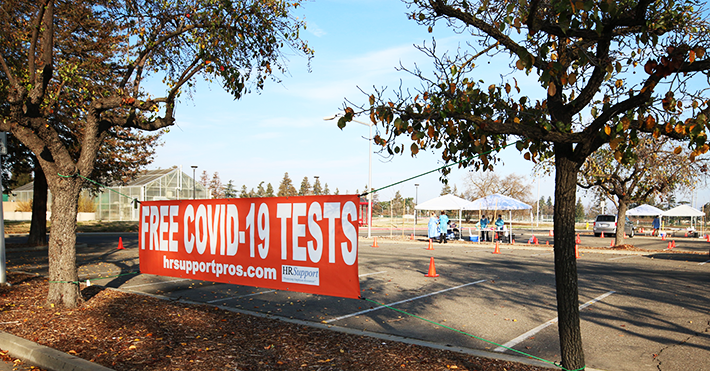 COVID-19 Protocol for Testing
The purpose of this protocol is to establish the process for testing, sequestering and repeat testing for COVID-19. The protocol will identify the processes for members for the campus community to access testing, and what individuals should do following test results. This protocol is based on evolving conditions and will be updated as new guidance or regulations are presented.
Read the Stanislaus State Protocol for Testing
CA Testing Locations
Free, confidential COVID-19 testing is available to every Californian that needs it. Appointments are required.
On the covid19.ca.gov page you will find:
COVID-19 at-home collection kit
If you suspect you have COVID-19, testing no longer requires visiting the doctor's office. In just a few steps, you can now purchase your own test and collect your own sample—in the comfort of your own home.