Steps to Take:
Before the Ceremony
Check your student email to view your assigned check-in time.

Please arrive promptly to ensure that all graduates and guests are checked in on time. Check-in times cannot be changed.

Print your graduate and guest tickets. 
A photo ID will be required if you are 18 years and older. 
The Day of Your Ceremony
Before coming to campus, you and your guests must complete the daily-screening form found on the Commencement homepage.
Arrive dressed in your academic regalia.  
Bring your tickets, and photo IDs with you.  
Parking will be available on campus, for free on the days of the ceremony.
At Check-In
Walk over to the check-in area with your guests by Snider Hall during your assigned check-in time.
 
You will need the following items:  

Your graduate and guest ticket(s).  
Photo IDs for attendees 18 years and older. 
Proof of completed daily screening forms.
Graduates can provide a green screen clearance, or complete the guest form.
Guests will provide a daily screening confirmation.
 

You will receive a Grad Card. Do not lose your Grad Card! It will be used to announce your name on the stage.
During the ceremony
Find open seating and sit with your guests.
Remain seated until your major group is called to the stage.   
Listen carefully to when your major group is called to the stage.
Majors will be called by alphabetical order.
When your group is called:    
Locate a student marshal in a red gown standing at the end of your row.  
Take your Grad Card with you and form a line.   
A student marshal will escort your group to the stage.   
Once your grad card is scanned, your name will be announced.  
Walk across the stage and take your photo. 
Once you are done, please return to your seat and stay for the remainder of the ceremony. 
After the ceremony
Once the ceremony has concluded, groups will be dismissed by seating areas.
Please wait until your area is dismissed.
How to Wear Your Regalia
Regalia consists of a matching black gown and cap.
Position your tassel to the right.
Wear your stole(s) and any celebratory cord(s).
Wear comfortable clothing and footwear.
Caution! Aisles contain grass, which may be difficult to walk on. It is recommended to wear flats or other comfortable footwear.
Grad Map
Where to Go?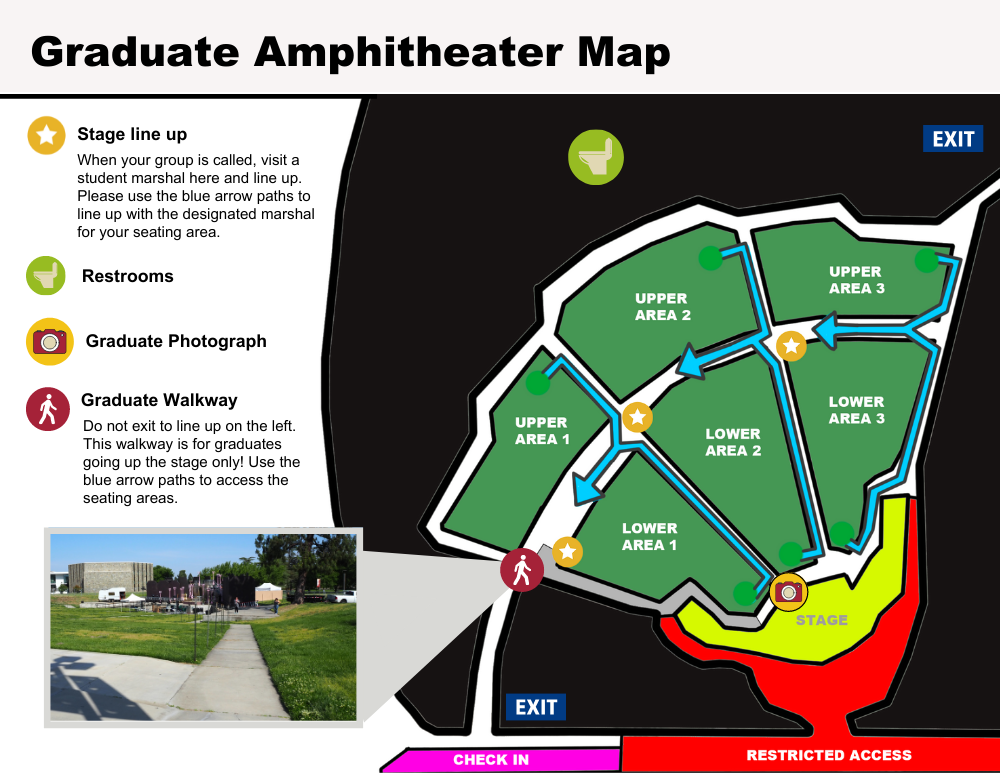 The wheelchair accessible seating section is located on the cemented area on the west side of the Amphitheater.
Note: The wheelchair seating area is by reservation only.
Portable restrooms will be located in several locations.
Northern grass area behind the main seating area.

Located near the front entrance, near the handicap parking section of Lot 3. 
There will be no food or beverage concessions at ceremonies.
Flowers will be sold by student-athletes from the women's soccer team outside the amphitheater.
All attendees are encouraged to bring water.
Stationed at the University Police tent located on the west side of the Amphitheater by the waterfall.
An ambulance will be on standby during each ceremony.