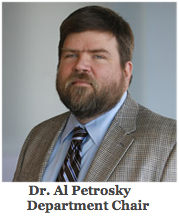 Welcome to the Management, Operations and Marketing Department website. We offer several unique perspectives of the business world through a well-developed curriculum, delivered by friendly, motivated, and competent faculty. We also offer several business-oriented certificate programs, and sponsor our very own conference. (see our conference website).
Management
The Management concentration curriculum enables the student to obtain both a managerial perspective and a functional background suitable for entry-level management positions in a variety of organizations.
Human Resources Management Track
HRM focused on the management of people in organizations. It includes personnel selection, training and development, labor relations, benefits and compensation.
International Business Track
IB involves the strategic management of organizations competing on world markets. It includes international marketing, finance and strategy.
Strategy/Entrepreneurship Track
SE involves designing and implementing organizational strategies in existing companies and initiating new businesses.
For requirement information regarding the Management program please visit the University Catalog.
Website: http://www.csustan.edu/Manage/
Operations Management
Operations Management (OM) is concerned with managing operations in manufacturing and service organizations. It involves the management of manpower, materials, facilities, and equipment for the efficient conversion of resources into quality products and services as well as their distribution.
OM managers apply their expertise and knowledge in the design, analysis, and planning of production systems. They utilize management science techniques and modern strategies to continuously improve the company's productivity and quality of its products and services.
For requirement information regarding the Operations Management program please visit the University Catalog.
Website: http://www.csustan.edu/OM/
Marketing
Marketing focuses on the relationship between the firm and the markets it serves. It includes measuring and interpreting market forces; cultivating market opportunities; developing products and/or services to match market opportunities; designing and managing market channels and physical distribution activities; pricing; advertising; sales promotion and public relations; and personal selling and sales management.
Professional careers in marketing are to be found in the marketing departments of industrial firms and merchandising firms. In addition, there is demand for marketing professionals in specialized organizations such as advertising agencies, marketing research agencies, and other service firms.
For requirement information regarding the Marketing program please visit the University Catalog.
Website: http://www.csustan.edu/Market/
Administration
Dr. Al Petrosky
Management, Operations & Marketing
Department Chair
apetrosky@csustan.edu
Elki Issa
Management, Operations & Marketing
Department Administrative Support Coordinator I
eissa@csustan.edu
Office Contact information
Address:
Management, Operations and Marketing
California State University, Stanislaus
One University Circle
Turlock, California 95382
Building: Demergasso-Bava Hall
Building #21: - See Map
Office: DBH223 - See Map
Phone: (209) 667-3507
FAX: (209) 667-3210
E-mail: eissa@csustan.edu