Checking Grades
Click My Grades on the Tools and Communication page to check your grades. You can review your answers and any feedback for assessments taken through Blackboard, as allowed by your instructor. Your instructor may choose to display only a score, additional information about which questions you answered correctly, or even the entire list of questions with correct answers. Contact your instructor for any questions about your grades.In Your Course:
Click Tools & Communication (default name, your menu may vary).
Click My Grades.
If the grade is from a Bb test or quiz, click the score to view your answers and feedback (if available).
If the grade is from an Assignment link, click the score to see any feedback or downloadable document your instructor may have attached.
See Checking your Grades in the Bb On Demand Learning Center (2:39)
Icons
On the My Grades page, you may see icons for the score or grade. If Bb or your instructor grades the assessment, you can click the grade to see any comments or files your instructor gave you. Some comments appear on the My Grades page.
The Icon Legend indicates each icon's meaning. A Completed item is usually not a score, just an indication that the item was completed.
The Attempt in Progress icon may appear if you clicked outside the test area or if your computer, browser, or Internet Service Provider had a disconnect. Contact your instructor as soon as possible.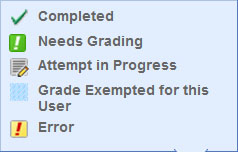 Why can't I see a grade for the quiz I took in Blackboard?
If the instructor has chosen to make the grade unavailable, or if you exceeded a time limit, the grade will not appear until the instructor enters it. Subjective grading will take longer. If the quiz was taken on paper, the grade will be in your Blackboard My Grades area after the instructor enters it in the Bb Grade Center.