Professionalism in the job search is critical for success. Whether it is an on-campus job, off-campus part-time job, an internship, or your first full-time role, maintaining positive relationships is key to building a professional reputation.  

To aid you in this process, review our resources below and, as always, feel free to reach out! We would love to connect with you. 
Keeping all appointments and interviews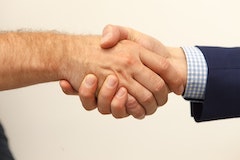 Arriving on time, or early, and keeping all scheduled appointments and interviews is a great first impression.  And quite the opposite, not keeping an appointment or giving notice as to why you miss an interview can leave a bad impression. No-showing for interviews can lead to missed future opportunities.  If you no-show for an interview scheduled through HireStanState or through one of our recruitment events, we will block your HireStanState account until you meet with one the members of our administrative team. 
Do not renege on job offers 
The definition of renege is to go back on a promise or commitment. If you have accepted a job or internship offer, we encourage you to stop looking for new opportunities. Continuing to interview can lead to additional offers, which may lead to reneging on the original offer. If you need more time to consider an offer, it is better to ask for some time than to burn a bridge by accepting a position and dropping it at the last minute. Reneging on an offer can affect your reputation as a serious candidate and can damage relationships between the campus and students who are seeking opportunities. If you would like to discuss this, please meet with us as we are here to support you.

> Can You Renege On A Job Offer? article by The Muse   
Access to HireStanState and Recruitment Events  
All current Stanislaus State students have access to HireStanState. The Career and Professional Development Center reserves the right to place holds on student accounts if a student or alumni violates terms of use. 
Students are expected to honor commitments for career coaching appointments, job interviews, and limited-capacity events.  Students who fail to appear for such commitments have taken a spot that another student could have filled.
Students who are unable to make an appointment, interview, or limited-capacity event are expected to contact the Career & Professional Development Center or employer at least 48 hours in advance to cancel or reschedule, if possible.  Failure to provide such notice may result in suspended access to Career Center services.  The decision to reschedule an interview is at the employer's discretion. Failure to show up for an interview may lead to an employer ending on-campus recruiting, which affects the whole campus. Students who no show for scheduled interviews may have their access to Career & Professional Development Center services suspended.  In addition, students will be required (under the guidance of Career & Professional Development Center staff) to professionally resolve the situation with the employer.