​Wednesday, March 11, 2015
10:00 a.m. - 2:00 p.m.
Location: Event Center- see map
Employers may register online to attend the 2015 Career Fair
The annual CSU Stanislaus Career Fair is a one-day event on campus where employers provide information about full-time, professional-level positions with their organizations as well as Internships and summer employment.
Career Fair is open to all California State University, Stanislaus students regardless of class standing. The event is also open to alumni and students/ alumni of other CSU campuses.
Student Information
Free Admission for Students!
Bring your Resume & Dress Professionally!
Meet Recruiting Representatives from local and regional employers to obtain information about summer jobs, internships, and career opportunities. Some employers may conduct on-site interviews.
Employer Information
Check-in time: 9:15-10:00 am
Registration
For your convenience, we've added an online registration and payment. This will be available early January 2015.
What do the Career Fair fees cover?
These fees provide for table and chair rentals, student assistants, and Career Fair advertisements. Registration fees are as follows:
| | | | |
| --- | --- | --- | --- |
|   | Deadline | For-Profit | Non-Profit |
| Regular Registration | Jan. 12 - Feb. 13 | $175.00 | $125.00 |
| Late Registration | Feb. 16 - Feb. 27 | $200.00 | $150.00 |
Communications:
All Career Fair updates and announcements will be communicated to your organization's designated contact person ONLY by email. Please include your current E-mail address on the Registration form.
Questions:
For information call (209) 667-3661.
Career Fair Participants and Photos: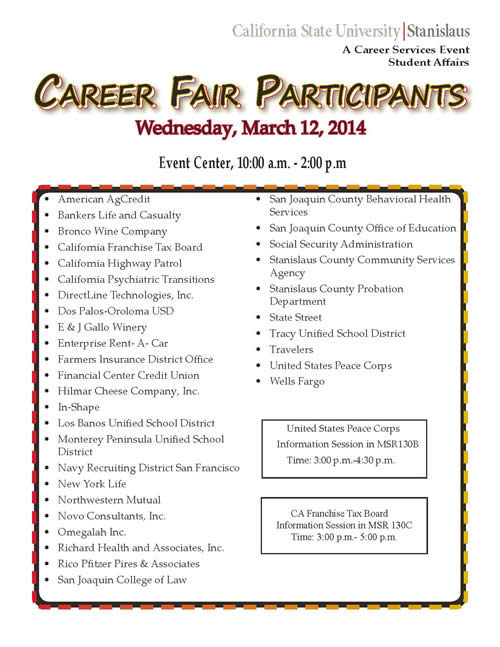 2013: Participants.pdf
2011: Participants.pdf
2010: Participants.pdf
2009: Participants.pdf
2008: Participants.pdf
2007: Participants | Photos
2006: Participants | Photos
2005: Photos