Concert, Masterclass and Motivational Discussion
Concert, October 22, 7:30pm, Livestream free!
 
Directed Listening Event, Friday, October 23, 1pm, Free Virtual Event

Zoom Meeting ID: 968 9017 3152, Passcode: 288001
Livestream also!

Masterclass, October 23,  2pm. Register Here
Meeting ID: 997 0539 8393, Password: 7261647850
Livestream also!

Movational Discussion, November 5, 2pm-3:15pm, Free Virtual Presentation
Register here!
---
 "Maginley is a highly intelligent player with an excellent, fluent technique always at the service of the music he is playing. High praise, too, for the rich variety of timbers and nuance Maginley draws from his instrument ... Excellent sound"
-Fanfare.
---
Biography
Andrew was born in New York City and began learning ukulele and guitar at age 6 with his father and grandfather, a native of Barbados. As a teenager, Andrew played electric guitar and after hearing recordings of Julian Bream and Paul O'Dette decided to study the lute privately with Patrick O'Brien. After obtaining a Bachelor's Degree in Fine Arts, Andrew continued his studies on the lute at Mannes College of Music where he gained a Masters Degree in Music and was awarded a Fulbright scholarship to further study historical performance in Bremen Germany.
After completing his studies, Andrew has been engaged internationally in concert and early opera as a soloist and continuo player on baroque and renaissance lutes, theorbo, and baroque guitar in concert halls and opera houses worldwide. Highlights include Salzburg Music Festival, Göttingen Handel Festspiele, Edinburgh Festival, Aspen Music Festival, Semperoper Dresden, Oper Frankfurt, Opera North, Oper Stuttgart 1998-2006, Oper Klagenfurt, Oper Graz, New York City Opera, Los Angeles Opera, and Liceo Opera Barcelona. 
Onstage, in character Andrew performed all of the recitatives on guitar in Mozart's Cosi fan Tutte at the Netherlands Opera, and in Don Giovanni at Theater Krefeld Germany. As an early music specialist Andrew has performed with some of the world's leading ensembles and orchestras that specialize in early music performance including Freiburger Baroque Orchestra, English Concert, La Grande Écurie et la Chambre du Roy and the Orchestra of the Age of the Enlightenment.
With a boundless passion for the virtuoso solo music of the baroque lute, his second solo recording, Andrew Maginley: The Baroque Lute - J.S. Bach, S.L. Weiss & Adam Falckenhagen, on Avie Records has been highly praised by Gramophone and Fanfare magazines. He has given solo performances at the Bachhaus in Eisenach (where J.S. Bach was born), the Bloomington Early Music Festival and, and live on BBC Radio 3. Festival appearances have included the International Handel-Festival Göttingen, Berlin Tage für Alte Musik, Telemann Festspiele Magdeburg, Händel Festspiele Halle, and Hong Kong Academy for Performing Arts.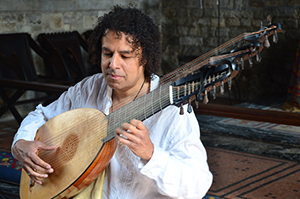 His recent recording for Resonus classics 2019 with countertenor Lawrence Zazzo 'Handel Uncaged' has had rave reviews. Andrew is co-director of The Frolick with contralto Emma Curtis, his wife. Their recording Calliope: Beautiful Voice – Volume the first, English Songbooks of the 1700s was awarded Best Classical Vocal by the All Music Guide.
Throughout his career, Andrew has had the privilege to perform with some of the leading singers in opera including Dame Sarah Connolly, Alice Coote, Danielle de Niese, Lucy Crowe, Paula Murrihy, Philippe Jaroussky, Anthony Roth Costanzo, David Daniels, Susan Graham, and legendary Frederica von Stade. 
Andrew has also worked with many leading conductors including Sir John Eliot Gardiner, Teodur Currentzis, Harry Bicket, Laurence Cummings, Emanuelle Haïm, Enrique Mazzola, Jean-Claude Malgoire, Frieder Bernius, Alessandro de Marchi, Kenneth Montgomery, Gary Wedow, Michael Hofstetter, Felice Venanzoni, Constantinos Carydis and Ingo Metzmacher.
Andrew is active as a teacher privately and takes part in teaching lute in workshops. As a vocal and instrumental coach Andrew has been invited to teach at the Hong Kong Academy for the Performing Arts, the North-West University: School of Music Portchestroom South Africa, and has assisted the vocal arts department for Juilliard Opera Center's first productions of early operas: L'incoronazione di Poppea, la Calisto, and Dido & Aeneas.
Motivational Discussion
November 5, 2-3:15pm, Virtual Presentation
Register to receive Zoom information
My talk will focus on my personal development as a black artist and musician in the US and Europe. These will include my experiences and impressions as a young artist on race in educational institutions, the concert stage, opera, auditions, and before and after my Fulbright Award in Germany.
There are many challenges that face young musicians of colour in the world of classical music & arts. Points of discussion will include defining 'classical music' for today's musicians, obstacles that face young musicians of colour in education and the industry, and what musicians of colour have to offer to an art form that historically has been seen as predominantly white.
I would welcome time for questions and answers from anyone attending the talk.