How to add a You Tube video with the Text Box Editor
Build Content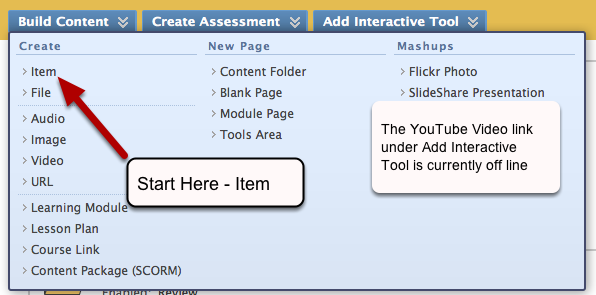 In any content area,under Build Content, select Item under Create.
The You Tube Video under Mashups is currently off line.
Add Item: Text Box Editor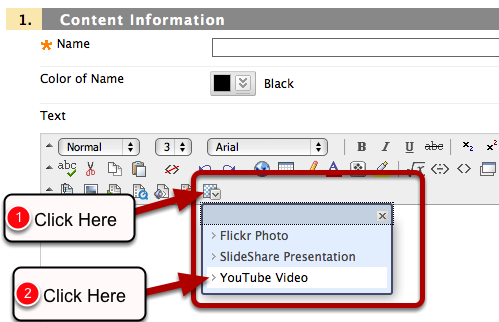 1. Click the Add Mashup icon in the third row
2. Click YouTube Video
Search for a YouTube Video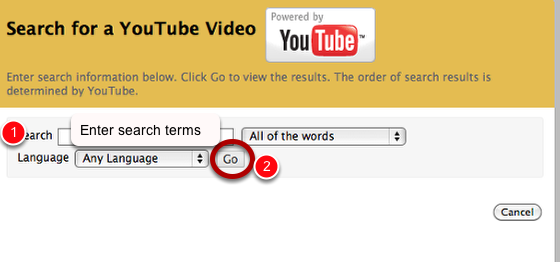 Enter search terms and click Go
Preview and Select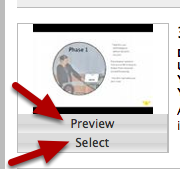 Click Preview to view the video before embedding
Click Select to embed the video
Select Mashup Options

The Thumbnail opens to full sized when View Link is clicked
Text Link with Player displays Watch Video as a link
Embed Video displays the full sized video player in the page
Click the Submit button to complete the mashup
Do Not Edit a YouTube Video Mashup

Attempting to edit the text or video in the text box editor may break the video link.
Instead of editing, delete the old YouTube Mashup and create a new one.
Bb 11/17