Create Sign-Up Sheets with Self-Enroll Groups
The Bb Group tool has a Sign-Up Sheet function.  You can have students sign up for events, study groups, assignments, or other self-enrollment activities.
1. In the Control Panel, open Users and Groups and click Groups.
2. Open the Create menu and select Group Set - Self-Enroll.
3.  Enter a descriptive Name for the Group.
The Description field is optional.
Group is visible to students:  Options
No – sign-up sheet is unavailable; the Group is unavailable.
Yes – sign-up sheet is available; the Group is available after a student signs up.
Sign-up Sheet Only – sign-up sheet is available; the Group is unavailable after a student signs up.
For students to see other members of the group and use designated tools, select YES, and click Show Members (below).
4.  Select which Tools you want the students to use.  
If this is a sign-up sheet only, students will not see the group page with tools.
If students will use group tools, select those needed.
5.  Enter the Name of Sign-up Sheet.
This is the name students see, followed by a numeral.
The Sign-up Sheet Instructions field is optional. 
Enter the Maximum Number of Members.
Select Show Members if you want students to see who has signed up for this group.
Check Allow Students to sign-up from the Groups Listing page.
   This adds the sign-up sheet to the Groups page.  Verify there is a Groups link in your course menu or Tools page.
6.  Enter the Number of Groups
Smart Groups creates an item in your Grade Center > Smart Views. 
  Access from Manage - Smart Views.  Click Star icon to add to list.
Click Submit.
7. Edit Group Names and Information 
Bb ordering is based on the initial digit, which intersperses single-digits with double-digits.
Edit the names and numbers of each group. You can edit single-digit numerals to 01, 02, etc., to modify the numerical order flow.
If you need dates and times or other specific informationfor each sign-up sheet, enter that manually on the Edit Group page.
After editing single-digit numbers to 2-digits.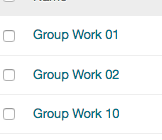 -----
What Students See
Click Groups link
Click View Sign-up Sheet to Join a Group
When Availability is set to YES, students see the Group Page, otherwise they see an empty page.
Bb 09/17