Warrior Pride, Wear your RED on Wednesdays
ASI Campus Pride works to encourage students to play an active role in establishing a sense of school spirit and unity amongst our campus community.
This year we have established the Campus Pride Committee who's sole mission is to spearhead a movement towards developing and promoting a sense of unity and belonging for our campus community.
Some of the main goals of the campaign are to get the entire campus community wearing red on Wednesdays, increase and maintain a level of affinity for our university, and promote Warrior pride and unity wherever we go!
Ways in which we promote our campus pride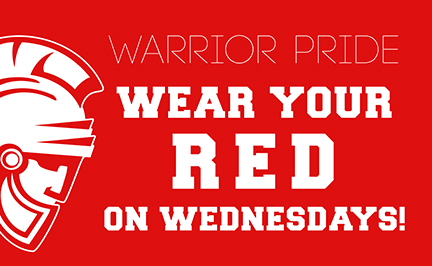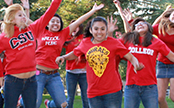 Wearing Red On Wednesdays
We love to reward students who are wearing Red on Wednesdays through the distribution of giveaways and incentives! On Wednesdays You Wear Red, on Wednesday's you get prizes!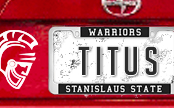 Warrior Pride Your Car
The campus pride committee gathers at different locations around campus during the month to install FREE Warrior Head decals and license plate covers on student's vehicles. This way we promote Stan State Pride wherever we go!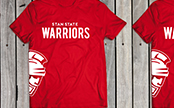 Warrior Merch
ASI sells Warrior Merchandise at discounted prices throughout the semester at the ASI/ USU Front Desk and at our Warrior Pop Up Shops in the quad once a month. This apparel is a great way to sport your campus pride around campus and around town!
Social Media
Each Semester campus pride hosts a social media challenge for students to participate in, where they have a chance to show off their school pride! Students get their peers together, get creative, and show everyone on the internet which school is the best, Stan State!
Stay connected on our social media for information about where we'll be on campus next installing Warrior Decals & License Plates, hosting our Warrior Merch Pop Up Shops, and handing out giveaways!
Contact Info
For more information or questions please contact Jocelyn Castelanos, ASI Administrative Support Coordinator-Programs at (209) 667-3816 or email at jcastellanos3@csustan.edu.