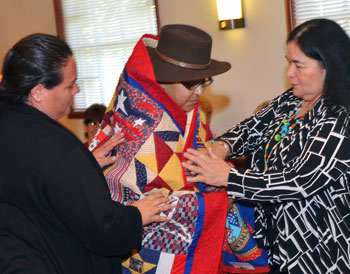 CSU Stanislaus has been recognized nationally on more than one occasion for embracing military service members, veterans and their spouses as students and working to ensure their success on campus. Thanks to a grant from Swords to Plowshares, a not-for-profit veteran service organization, the university is now expanding resources for women veterans in particular, both on campus and throughout the region.
That commitment was the impetus behind the Women Warrior Wellness Conference, held on campus Feb. 20 to generate support for women veterans and greater awareness of their needs. The conference was also an opportunity for female veterans on campus and in the community — often a marginalized group — to become aware of services and resources that are already available, and for the campus and community to be aware of the specific needs of women veterans.
"Women veterans have not been on the radar as much as they should be," said CSU Stanislaus President Joseph F. Sheley, who spoke during the conference's opening ceremony at the Faculty Development Center. "They have pride as veterans, and we want them to have that same pride in this institution. We want them to graduate, and to stay here in the region, and to come back and help other veterans."
The morning ceremony included appearances by and remarks from a number of dignitaries and special guests, including representatives from the CSU system, Swords to Plowshares, Stanislaus County Behavioral Health and Recovery Services, Ripon High School JROTC and the office of Congressman Jeff Denham, among others.
Star Lara, women veterans coordinator for Swords to Plowshares, said relationships are the key when it comes to helping women veterans transition into the classroom, the workplace, or into society in general.
Lara said the relationships she created with female comrades during her time in the Army are now among her greatest sources of strength as a veteran, and she urged those in attendance to reach out to fellow veterans and build those relationships.
"We all have unique experiences and challenges," Lara said. "I don't think anyone gets it except the women who get it. We have a bond that is impenetrable. I didn't realize how much I relied on that until it was gone."
Following a lunch break that featured tables promoting various resources for veterans, an afternoon program was held at the university's Event Center.
Representatives from CSU Stanislaus spoke about the services available to student veterans, such as disability services and psychological counseling. Linda Kleinsasser, R.N., the Women Veteran Program manager at the VA Palo Alto Health Care System, gave a talk on comprehensive primary care for women. That was followed by a panel of mental health speakers, including experts on art therapy, transgender issues, readjustment counseling and domestic violence.
An evening social hour in the Faculty Development Center featured a Native American and LGBTQI veterans theme and entertainment from two well-known, women-led, Native American drum circles — Turtle Women Rising and Bay Area American Indian Two-Spirits.
In addition to the Women Warrior Wellness Conference, the $35,000 grant from Swords to Plowshares will fund a designated space for women in the Student Veterans Center, along with counseling and professional trainings.
"Today, we let the women veterans know that they have allies," said conference organizer Jennifer Grigoriou, coordinator of the Women Warrior Program at CSU Stanislaus. "That was the success of this conference — giving a voice to women veterans and having them see, with their own eyes, that we care."