The 15th Annual Office of Information Technology (OIT) Tech Fair will take place on Wednesday, Oct. 17 from 10 a.m.-2 p.m.
To support the new theme of "Transformational Learning Through Technology and Innovation," the Tech Fair has expanded in size and will be held in two concurrent locations, in the lobby of the Mary Stuart Rogers Building for campus programs and departments with vendors and in the Faculty Development Center (FDC) for sessions and panels hosted by faculty members. All students, faculty and staff are invited to participate at both locations.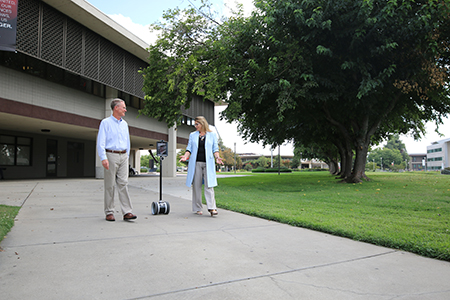 "Our faculty members are excellent ambassadors for academic technology and the creative ways it can support engagement and student success. This year, we're partnering with members of our faculty to present about innovative ways technology is used to support student engagement," said Tawn Gillihan, interim director of client services.
OIT and FDC are teaming up to host the one-day event with technology companies for hands-on, how-to demonstrations and activities that focus on the daily use of technology at Stanislaus State.
"Our previous events were successful at displaying technology, but this year we have shifted our focus to fit our audiences and provide an opportunity for the campus community to explore technology in a more engaging environment," said Heather-Anne Jaeger, administrative assistant in OIT.
Jaeger is leading the overall event planning and programming at MSR, with Glenn Pillsbury and Shradha Tiberwal developing the program and outreach for the sessions at FDC.
Attendees can expect to see tables co-hosted by vendors and partnering departments such as OIT, the Print Shop, School of Nursing and Disability Resource Services. Drop by MSR to explore what technology these departments are using to improve the everyday campus experience. Featured vendors include CDWG, Blackboard, Sonic Foundry, Apple, LinkedIn Learning/Lynda.com and Double Robotics. There will also be a drawing with door prizes.
Interactive technology will be at the forefront, with OIT drones making an appearance at both MSR and FDC. Participants will not only be able to see the drone up close, but they will also have the opportunity to experience drone flying in simulation mode.
"Participants in MSR will be able to take the controls of the drone and fly the drone's simulator as if they are actually flying," said Corey Cardoza, director of information and learning services. "This will give the participant a taste of what it is like to be a drone pilot."
In FDC, participants will get a look at how drones are changing the way we look at Geographic Information Systems (GIS).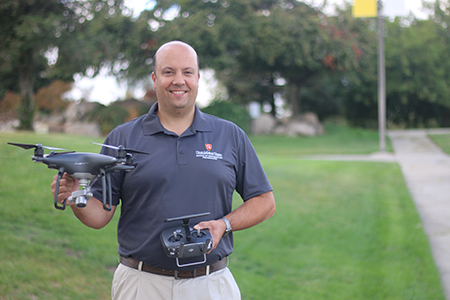 ​"OIT is collaborating with faculty members in the geography/GIS program," Cardoza said. "We will have their drone on display that is equipped with an agronomy sensor that will be flying over the sustainable garden this fall in one of the geography courses."
Access to technology is improving the classroom experience and engaging faculty and students to take advantage of active learning spaces, lab improvements and media services to maximize educational growth. Education is no longer limited by one's ability to physically attend classes. Using Zoom and other virtual conferencing and distance learning media has opened new methods for students to participate.
"This year we're introducing new technology that gives a remote participant a physical presence in a meeting or classroom," Gillihan said. "These efforts continuously improve access and engagement across campus".
Are you interested in meeting your new classmates or future students? We have three new students on campus and they are robots. Yes, robots! Come to the Tech Fair to see the new telepresence robots and find out how this new enhancement will advance the future of distance learning.
The campus community is encouraged to attend, participate and engage in this active learning environment.