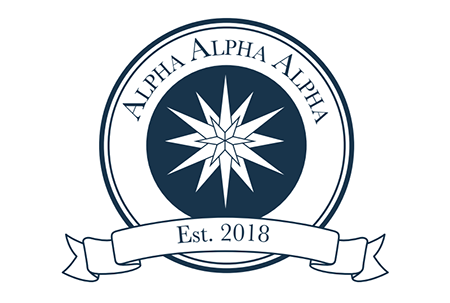 Stanislaus State is now one of about 40 universities in the nation and is the first in the West Coast to create an Alpha Alpha Alpha chapter. The honor society — which Stan State students prefer to call Tri-Alpha because its full name is a tongue-twister — is special because it supports the academic achievement of first-generation college students.
Seventy-four percent of Stan State students identify as first-generation college students, meaning neither of their parents completed a college degree. Stan State has more first-generation students than any other California State University campus and exceeds the CSU system average of 57 percent.
"Our population of students is not only significantly first-generation, but most of our students are also Pell eligible," said Keith Nainby, professor of communication studies and member of Tri-Alpha. "Opportunities that go beyond the classroom, such as recognition or professional networks, are often the hardest for these students to access, but Tri-Alpha can help provide these connections for them."
Tri-Alpha advisors — both of whom also identify as being first-generation — Gabriela Nuño, director of the Academic Success Center, and Debra Bukko, professor and director of the doctoral program in educational leadership, teamed up after they heard about this new national organization, which began in 2018 at Moravian College in Bethlehem, Pennsylvania.
"The mission and goals of Stan State and Tri-Alpha are in perfect alignment," said Nuño, who is currently pursuing an Ed.D. at Stan State and is excited to be inducted with the first wave of Stan State Tri-Alpha students. She believes the honor society will allow students to pause and reflect on their achievements and serve as motivation to pursue leadership positions.
To be eligible for Tri-Alpha, students must have completed 36 units, achieved an overall GPA of at least 3.2 and be a first-generation student. Graduate students may be eligible if they have completed nine or more graduate units and have a GPA in their graduate program of at least 3.0.
So far, about 200 students have officially become members of Stan State's Alpha Zeta chapter of Tri-Alpha. The quick and positive response of the campus community has made Nuño and Bukko excited to see how this organization will continue to grow. The student members are enthusiastic too.
"I read the description of the honor society when I got the email invitation, and I thought — that's me," said Mario Valtierra, a pre-nursing major in his second year at Stan State. "I came to the first meeting and immediately felt like I could relate to everyone there."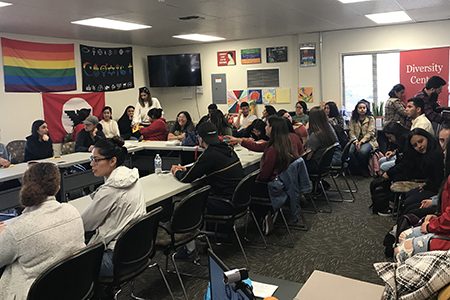 The first members of Stan State's Alpha Zeta chapter of Tri-Alpha met during the fall 2019 semester.
Valtierra decided to join when he learned more about the mission of Tri-Alpha.
"The goal of the organization is to help other first-gen students, and that's something I want to do," he said.
Valtierra's passion was recognized by other students in the honor society, as it didn't take long for him to be elected as vice president of Tri-Alpha. The other student officers are Aprilyn Gaoat (president), Yesenia Maldonado and Citlalli Martinez (secretaries), Ryan Garcia and Danielle Haro (treasurers) and Pavanjot Hayer and Leonardo Urbano (historians).
Faculty and staff may join if they were the first in their family to complete a bachelor's degree and are willing to serve as mentors for first-generation students. One notable administrator who is a member of Tri-Alpha is Provost Kimberly Greer, who is proud to have been a first-generation student.
"I think the excitement we've seen in the students is also happening with faculty and staff, so there is a positive energy and a focus on how to better support students," Nuño said. "Working at Stan State is very special because our faculty and staff are truly committed to our students, and I think this honor society will highlight this and provide a structure to lend even more support."
Jason Pourtaverdi, a lecturer in criminal justice and the director of the Faculty Mentor Program, said he is happy to be a member of Tri-Alpha for several reasons. He not only knows what it is like to be a first-generation student but can also relate to students who are immigrants or whose parents immigrated to the U.S. Born in Iran, Pourtaverdi immigrated to Turkey and then Germany before coming to California.
He encourages students to talk with him about anything, even if it isn't school-related.
"I don't want them to make the same mistakes I did," Pourtaverdi said.
He especially wants students to know that there are myriad of career paths available, and they shouldn't be afraid to ask questions and get connected with faculty members and other students.
"If you find that you're eligible to be a member, you should join," Valtierra said. "This is going to be one big first-generation family."
Sandra Chavez, a senior majoring in business administration, agrees.
"I'm from the L.A area, so I'm far from my family. This is going to be like a second family for me."
Due to the current situation regarding the coronavirus, the induction ceremony for Tri-Alpha has been postponed for the fall semester. Students, faculty and staff interested in becoming members are encouraged to contact Bukko or Nuño.