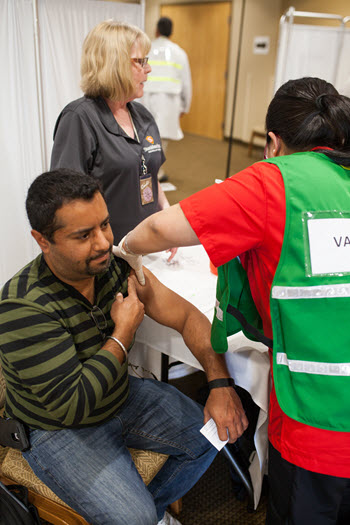 On the surface, it was nothing more than the annual flu clinic — a chance for Stan State students to get a free inoculation against the worst bug every winter seems to bring.
But for Stan State's Infectious Disease Response Team (IDRT), which is made up of staff, administration and members of University Police and the Student Health Center, the Nov. 9 clinic at the South Dining Hall offered a chance to practice how the University would respond to the need to dispense mass doses of medicine in an emergency situation.
The IDRT, in cooperation with the Stanislaus County Health Services Agency (HSA,) ran the clinic strictly within the guidelines and protocol of a Point of Distribution (POD) model. A POD is organized and designed as a temporary clinic to efficiently distribute medicine in sudden outbreaks including but not limited to anthrax, meningitis or mumps.
The proper execution of a POD is about "finding ways to control what is likely to be a chaotic environment," said Dr. Sergio Mazon, the Student Health Center's chief of medical staff.
Large PODs with dozens of dispensing stations can handle hundreds of patients per hour over extended periods, such as what was necessary in February when an outbreak of meningitis hit Santa Clara University.
The Stan State flu clinic, which was a test of the University's ability to construct and use a POD model, inoculated 97 students in three hours, but was designed to handle up to three times that number.
"This is serving three major roles," said Dr. Scott Hennes, director of the Student Health Center. "First, there's the flu clinic and letting students know how important it is for them to get their flu shots. The second is the developing of relationships. In staging this POD we've been able to forge relationships with the University Police Department, risk management and the nursing faculty and their students. It was their initiative that started this. Also, building a relationship with the county has been really important."
The county HSA conducted a POD training session with the IDRT in October and was on hand during the flu clinic to monitor the POD's effectiveness.
"It's important for us to practice and to identify and train all the necessary jobs to establish a POD quickly in case of an emergency," Dr. Hennes said. "We need to know what slows down a POD and how to be more efficient because you never know when we'll need this."
Prior to the opening of the clinic, nursing students got just-in-time training regarding their specific roles within the POD structure, just as they would should the University be needed for such a purpose in an emergency. Nursing students (who were under the close observation of their teachers during the clinic) remarked that it was the first time they'd given multiple shots outside the classroom, and that they also learned important communication skills while talking with the students who came in for their flu shots.
"We had a few kinks in the beginning, but that was to be expected because all of this is new and we're all still learning, but they worked-out pretty quickly," said Laura Roberts, staff registered nurse 3 with the Student Health Center and also co-POD manager. "Once the students started coming, everything fell into place.
"If we didn't have the students come to the clinic we wouldn't have been able to practice. So our goal was not only to put on the flu clinic but to learn from the process of practicing the POD model."