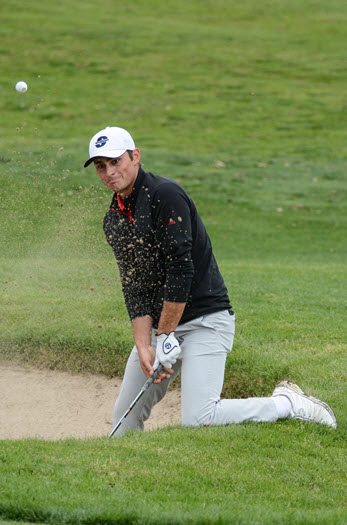 Stockton has been a second home for Stanislaus State for many years, since the University historically pulls many students from San Joaquin's county seat and maintains a satellite campus there. But this week, the Warriors' baseball and golf teams are hoping to take advantage of some home cooking, with both in Stockton to battle in postseason play.
The Stan State golf team is competing in the NCAA Division II West Regional Golf Tournament at Brookside Country Club, with play wrapping up Wednesday, the same day the California Collegiate Athletic Association Baseball Tournament opens at Stockton Ballpark.
It's no surprise the Warrior golfers are in the postseason. Historically the University's top intercollegiate sport, Stan State golfers have appeared in the NCAA regionals in 18 of the last 19 seasons. Two weeks ago, the Warriors swept to their third CCAA title in four years and entered this week as the region's No. 10 seed.
"The Stanislaus State golf program has a history of successful postseason play," said second-year head coach Brandon Christianson. "This year, winning the CCAA Championship validated our confidence heading into regionals. As a coach it means a great deal to see hard work pay off for a group of talented players."
This has been a spring of resurgence for the Stan State baseball team, which came together in April to win 14 of its final 16 regular season games to finish 34-16 overall and 23-15 in CCAA play. By finishing second in the CCAA North Division, the Warriors grabbed the conference's No. 4 seed and will open the six-team, double-elimination tournament Wednesday at 7 p.m. against No. 3 seed UC San Diego.
This marks the third time Stan State has reached the CCAA Tourney, and the first time since 2008. The event runs through Saturday.
"The team is really excited to represent Stanislaus State and the City of Turlock in the CCAA Championship Tournament," said coach Kenny Leonesio. "The guys have worked extremely hard to get to where they are at and we are looking forward to having a successful week."