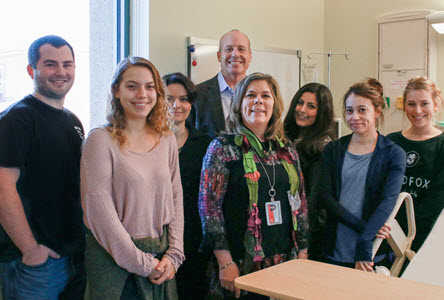 The Central Valley has been very good to the Stewart family for more than 100 years, so it's only fitting that the Stewarts — the owners of Delta Sierra Beverage — are showing their gratitude and their love for the region by giving back.
The latest philanthropic gesture by the Stewart Family Foundation, which was established in 1999, is a $50,000 gift to Stanislaus State for the purpose of establishing a scholarship fund that supports nursing students.
"My parents love the Valley and always have loved the Valley," said Robert Stewart, president of Delta-Sierra Beverage, one of the region's largest beverage distributors. "My mom's family came here in the late 1800s, and she's been a Valley advocate since she was born. She's 91 and she still talks in glowing terms about every aspect of the Valley. So this is just a way of supporting the community she loves. My dad is 93 and while he's originally from San Francisco, he loves the Valley."
The company traces its roots to 1919, when Swiss immigrant Ben Santi purchased a dairy in Merced. In 1933, after the repeal of prohibition, Santi expanded the business and began distributing beer and wine. His daughter Betty Santi married Don Stewart in 1948, and the company continued to thrive under the leadership of Stewart — and eventually his son Robert — growing to where it now serves more than 2,600 retail accounts in eight Central California counties.
The Stewart Family Foundation became reacquainted with the profession on a personal level when Don Stewart, now 93, suffered a stroke last year.
"Nurses are such an important part of our community and they do so many things that most of us can't or wouldn't be willing to do," Stewart said. "I've come to learn that Stan State has a very well-regarded nursing program. So, we decided to expand the nursing scholarship plan, and then decided to do it at Stan State.
"The family has had a lot of involvement with nurses and healthcare, and while that's part of this gift it's really more about just giving back to the community for being such a great place for our family for all these years. We've spent a lot of time in hospitals the last year with my dad and all of us have been so impressed with the nursing care we've had."
The Stewart Family Nursing Scholarship fund is structured so that the family's foundation and other donors can contribute towards keeping the program going for many years. To start, the fund will allow the awarding annually of four $2,500 scholarships for qualifying nursing students who graduated from high schools in Stanislaus, Merced, Mariposa, San Joaquin, Amador, Tuolumne and Calaveras counties.
"The School of Nursing is grateful for the scholarship opportunity afforded to our students by the Stewart family," said Debra Tavernier, director of the School of Nursing. "Many of our students necessarily work more than 20 hours a week while completing our rigorous nursing program. The ability to have a scholarship take some of the financial burden off of the students gives them more time to focus on what's important – studying to be the best nurses that they can be."