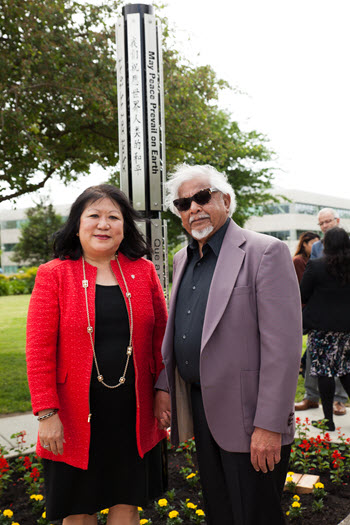 Dr. Arun Gandhi took one look at the location of Stan State's new Peace Pole — midway between the Vasché Library and the Main Dining Hall — and declared it perfect.
"This is a very fitting location," said the grandson of Mahatma Gandhi, with a gesture toward the library. "Over there you have food for the mind and on the other side you have food for the body."
The newest monument on the Stan State campus, the Peace Pole — embellished with the words "May Peace Prevail on Earth" in 16 different languages — was dedicated with a ceremony April 27 and followed by a keynote address from Arun Gandhi in Snider Recital Hall.
"What we're dedicating today is an internationally-recognized symbol of the hopes and dreams of all people, a quiet but resolute message of hope, a silent prayer for the future of humankind," said Stan State President Ellen Junn during the unveiling.
The moving outdoor ceremony included several members of the Stan State community, including many international students, saying the phrase on the Peace Pole in their own languages.
The monument was designed by a team of students and faculty led by Art Professor Dean DeCocker, and as Junn pointed out, the 16 language panels can be replaced as deemed fitting to better reflect the ever-changing demographics of Stan State, one of the CSU's most diverse campuses.
In the following lecture, Gandhi borrowed heavily from the lessons he learned at a very young age from his grandfather, especially as they relate to his most recent book "The Gift of Anger: And Other Lessons From my Grandfather Mahatma Gandhi," and connected those concepts to those espoused by the message on the Peace Pole.
"We are not born violent," Gandhi said. "Violence is a learned trait, and therefore it can be unlearned."
One of the ways Gandhi suggests to unlearn violence is to embrace and better understand the anger that is at the heart of violence. Since he was 12, Gandhi has kept an anger diary, into which he writes about moments that have caused him to become angry as well as moments he may have angered others. The sentiment is that if the exercise does not go beyond the written word, it is wasted.
"My grandfather was born with common human frailties and made the conscious decision to make himself better," Gandhi said. "He wrote down all his own faults in his diary and set about trying to improve on all of them. He was not born a great person but he made himself great and that should be the ambition of everyone."