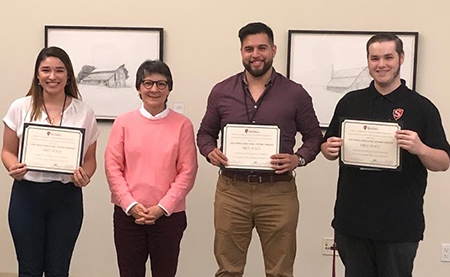 (left to right) Victoria Morado, Provost Kimberly Greer, Andy Ponce and Kohl James hold certificates of recognition on Feb. 28 after winning the Stan State Student Research Competition in their Category. The trio advanced to the CSU systemwide competition, held virtually, in April.
A year's worth of work and dedication paid off for Stan State senior math majors Andy Ponce, Kohl James and Victoria Morado, who took first place in the Physical and Mathematical Sciences Undergraduate category of the CSU Student Research Competition.
The 34th annual event was conducted virtually this year, and Ponce, James and Morado dazzled judges with their project, Finding the Center of the Galaxy.
In addition to prestige, the success comes with an as-yet unnamed financial award.
The trio won the Stan State research competition held Feb. 28, which involved submitting a research paper, preparing a 10-minute PowerPoint presentation and participating in a five-minute question-and-answer session. They replicated the requirements for the state competition, but all of it was done online.
"I don't think I've internalized it just yet," an elated Morado said. "We're so proud of getting first place, and for being the only group from Stan State to place in the competition this year. I looked at our video, and we put every ounce of energy into that. We wanted it to be perfect. We're all perfectionists and we re-did it a dozen times. We put in the heart, love and passion we have for research and mathematics."
The campus competition advanced four undergraduate projects to the statewide competition. In addition to Morado, Ponce and James, Stan State was represented by Danielle Simpson's project, Examining the Relationship Between Activity and Cognitive Function in Older Adults (Psychology); Mary Vardeh and Arlena Liryce Gavino's Informing the Need for Critical Thinking in Mathematics (Behavioral and Social Sciences); and Arleigh Earnest, Garrett Bozzo and Omar Fernandez's Population Dynamics of Red Hills Roach in Relation to Rainfall and Pool Volume (Biological and Agricultural Sciences).
Hosted by Cal State East Bay the year, the CSU Student Research Competition moved to a virtual format in the wake of the COVID-19 pandemic, which may have been a comfort for Morado after the campus experience in February.
"We felt prepared when they asked us our questions, but I was so nervous," Morado said. "I felt I was stuttering. I left the Q-and-A session and felt humbled and so perplexed, like we still have so much work to do. I didn't go into the awards ceremony feeling like we took first place. When they announced we took first place, it was like a lightning bolt went through my body. I was stunned. It was a very transformative moment for myself in my senior year."
The trio had begun work in February 2019 under the guidance of Mathematics Professor JungHa An.
Morado's sister, who graduated from Stan State in 2019, was a McNair Scholar and her research project for that program inspired Morado to investigate research. She approached An, her professor of numerical analysis, in Fall 2018, and An recommended she connect with classmate James.
Morado then encouraged her friend Ponce to join them, and by Spring 2019, the trio had a project idea.
At An's suggestion, James, a physics minor, reached out to Assistant Professor Brian Morsony, and he joined An in overseeing the research project.
An astrophysicist who teaches astronomy courses, Morsony offered technical advice on the astronomy portion of the study.
"I was teaching them how to take what they do know about physics and apply it to this research," Morsony said. "They were really self-directed and managed to stay motivated and worked together well. I was impressed by their work and the amount they got done and put into it."
Morado said the three spent a year working together for three to four hours a week, including an hourly meeting with An, then individually spent another four or five hours a week on the project.
"I have so much praise for my students," An said. "I've been conducting student research projects for 10 years, and I feel like this is my 10th anniversary gift. On the mathematical side, it's not easy. I tell my students it's about having Warrior Pride. Our school is not well known compared to other CSUs with engineering schools. We were competing against all of those. It wasn't an easy accomplishment. Now, they can enjoy the moment of showing what we can do.
"I love my students. They're awesome and great."
She also loves that the project involved collaboration with the Morsony and the Physics Department.
"That's what makes me so proud," An said. "There was more interdisciplinary and collaborative work. In the math and STEM field, math is not usually eager to work this way."
It also was a new opportunity for Morsony, whose own research is theoretical rather than data driven as the student project was.
"This was an interesting project, because it combined a couple areas," Morsony said. "It's a smaller campus, where you know people outside your department or can find someone outside your department and you can combine your techniques. They took math, computer science and physics and combined them to make something more interesting. It just shows how good our students are at Stan State."
A sentiment shared by the panel of judges of the CSU Student Research Competition.