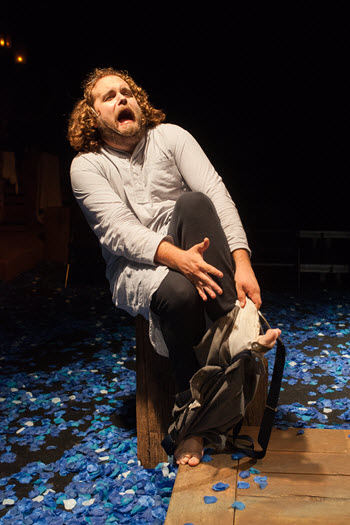 Cradeau is not a character that Stanislaus State theatre major Sam McCart especially likes.
In fact, the three main characters in Jean-Paul Sartre's "No Exit," which runs through Oct. 20 in the Stan State Black Box Theatre, are "probably some of the most vile individuals you are ever going to meet," McCart said.
"No Exit" is the story of three deceased people "who meet for the first time in a hotel room in hell," McCart said. "They are forced to live with one another, and that essentially is their own hell."
Written by an existential philosopher, "No Exit" is a character study in which the principals lack character.
That's the acting challenge that McCart, a senior who expects to graduate in the spring, relishes.
"One of the most popular comparisons you can do with the character is Darth Vader from 'Star Wars,'" McCart said. "He's the most evil, vile guy, but what led up to that? Why is he like that? The challenge as an actor, I would say, is to not get the audience to like you, but to get the audience to relate to their own insecurities."
That's one of the lessons McCart has gained since stepping into the Stan State Theatre Department in 2016.
A native of Crows Landing who attended Turlock High School, McCart grew up in a family of rodeo participants and he and his elder brother, Jacob, both got horses and tried the cowboy way. But, the two discovered theatre at Turlock High and pursued it in college.
Sam McCart delayed entering college after graduating from Turlock High in 2009 and helped with his dad's start-up company, but when he enrolled at Merced College in 2012, he landed in the theatre department.
He found a mentor in Carin Heidelbach, now an assistant professor at Stan State, and explored a number of aspects of thatre.
"I started off with acting and I really got involved with lighting design," McCart said. "I was a work study student at Merced, and the technical director was my advisor, and he was really into lighting design. Whenever a show would come up, he would take me under his wing and teach me the fundamentals. I really got into it and I did design a few shows. The kicker for me, and I didn't realize it until a few semesters ago, was directing. I really enjoy directing."
He had some opportunities to direct at Merced College — which he attended until 2016 — and although he hasn't directed a Stan State production, last spring he directed "Doubt, A Parable" at the Merced Playhouse for his senior seminar.
McCart views directing as a collaborative effort among cast and crew, but he likes being the one with the vision for how a show will look.
"No Exit" is the vision of professor Eric Broadwater, the chair of the Theatre Department who directs the four-person cast that, in addition to McCart, stars Grace Fielder, Hannah Judish and Charles Reismann.
Performances are at 8 p.m. Oct. 10-12 and 17-19 and 2 p.m. Oct. 13 and 20. Tickets can be purchased online.