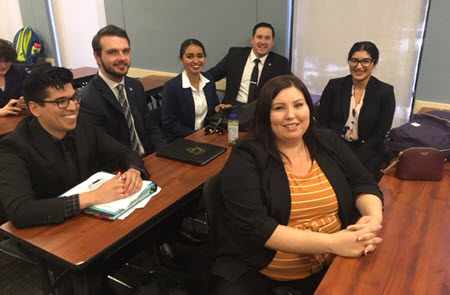 When she and her teammates had finished their first day of competing at the American Moot Court Association Western Regional in Fresno, Stan State senior Manroop Chandi sat with her five classmates cheering for the teams that qualified to compete the next day. 
"When they started announcing teams, we were clapping and we looked around and wondered who is it. It took a few minutes to process that it was us," Chandi said. 
Chandi and her partner, Ana Villegas, members of Stan State's first group to compete in moot court, were among the 16 teams to advance from a starting field of 36 teams from schools throughout the Western Region in a competition held Nov. 1-2 at Fresno State. 
"There were big schools, like USC, which have two or three coaches, and have been doing this for 15 years," Chandi said. "Practicing attorneys coach them, and they knew exactly what questions they'd throw at you," Chandi said. 
Chandi and Villegas, and the teams of Kyle Mitchell and Dustin Costello and Elizabeth Alejandre and Tyler Nitz, were trained by a former practicing attorney in Stan State Professor M. Blake Wilson, who started the moot court criminal justice class this fall. 
"The goal of the course was to introduce students to the art of oral advocacy," said Wilson, who practiced law for 18 years before turning to teaching. 
Moot court does not simulate the typical courtroom trials most have seen on television. Instead, it teaches the art of arguing at the appellate court, or even the Supreme Court level, where the judges are the jury. 
Students competing this year prepared to argue — either as the petitioner or respondent — a human trafficking/child pornography case. The defendant's attorneys appealed his conviction on the basis of his Fourth Amendment right being violated by cellphone records obtained without a warrant and his Sixth Amendment right to confront his accuser, as some evidence included hearsay declarations. 
Each participating student received the same packet of information and list of court cases relevant to the case, and each team was required to prepare arguments for each side of the two issues. 
Three Fresno-area attorneys served as judges at the competition. 
"They were brutal on us," Chandi said. 
But, she's ready for more. 
A double major in business and political science, Chandi expects to earn her business degree in May, but plans to return for another year to complete her political science degree. A first-generation college student, Chandi arrived at Stan State expecting to study business to help her dad and brother, who own gas stations, a Subway sandwich shop and truck stop. She took one political science course, though, and changed her mind. Ultimately, she'd like to be an attorney and work in politics. 
She served as an intern both in Modesto and Washington D.C. for former U.S. Congressman Jeff Denham, and last summer participated in a month-long intensive pre-law program at Cornell University. 
That experience gave her a bit of an edge over her classmates at the moot court competition. 
"I had seen four appellate cases," Chandi said. "There were bad attorneys and good ones. I took notes as they talked." 
Nothing quite prepares anyone for the verbal sparring necessary for an appellate court case than actually experiencing it. 
"They need to be nimble and they need to be able to take rhetorical adversity from an authority figure, who's the judge, and they need to turn it to their advantage," Wilson said. "They need to be able not only to summarize a large amount of material, but be able to speak about it in a very concise and knowledgeable way. I think the real skill is the ability to respond to what appear to be adversarial questions or questions designed to show a weakness in the argument." 
He was thrilled with the performance of his three teams of students, that they had begun to master an ancient form of law. 
"It's a technique of communication that goes back to the time of the ancient Greeks, of standing in front of judges or juries and using your rhetorical skills to argue the righteousness of your position," Wilson said.