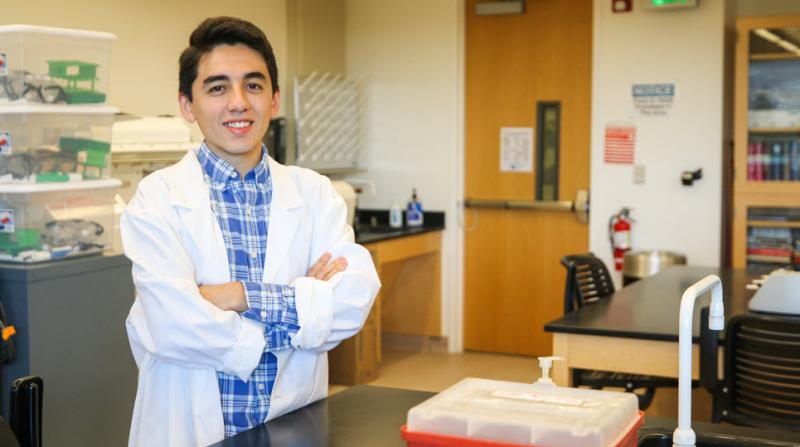 Stan State senior Angel Avalos, a biological studies major, is one of 23 students, one from each of the 23 California State University campuses, honored with a 2019 Trustees' Award for Outstanding Achievement. 
The recipients were recognized this week at the CSU Chancellor's Office during the trustees' annual September meeting. 
Avalos, a member of Phi Kappa Phi, the Stanislaus State Honors Program, the McNair Scholars Program and the Louis Stokes Alliance for Minority Participation, said the application process for the Trustees' Award was intense. It involved letters of recommendation and a personal statement, not unlike what he's preparing for graduate school applications. He applied for the $6,000 scholarship last spring and received word in July that he was Stan State's recipient. 
"I was surprised, because at that point it was July and I thought they weren't going to get back to me," said Avalos, 21. "When I got the acceptance letter, though, it was pretty cool. I was kind of shocked." 
The CSU's highest recognition of student achievement, the awards provide donor-funded scholarships to students who demonstrate superior academic performance, personal accomplishments, community service and financial need. Students receiving the awards all have demonstrated inspirational resolve along the path to college success and many are the first in their families to attend college. 
Avalos, who grew up in Turlock, attended Pitman High for two years and graduated from Turlock High, checked all the boxes for the Trustees' Award. He carries a 3.9 GPA, participated in bacterial research during the summer of 2018 at UC Merced and tutored K-12 students. 
He is a first-generation college student — the first in his family to pursue a four-year degree. His parents both were accepted at UC Davis but dropped out when his mom became pregnant with him. His mom later earned an associate nursing degree and his dad is studying at Merced College to be a radiologist.  
Avalos said his interest in biology began as a child. 
"When I was a kid, I used to watch a lot of nature and science documentaries. Once I got to high school and was taking science courses, I knew that was something I wanted to do," Avalos said. 
He took advanced placement courses in high school and was destined to attend college, but he and his family hit a devastating patch when his younger sister died of cancer at the age of 11. Avalos was 15 at the time. 
Avalos' primary scholastic interest is in microbiology. His research projects included studying DNA nanotechnology at UC Merced, examining bacterial enzymes with his Stan State mentor Dr. My Lo Thao and his own research for the McNair Scholars Program last summer. Following his graduation from Stan State, Avalos plans to attend graduate school on the West Coast and is aiming to pursue a Ph.D. in microbiology. 
"I've been interested in microbiomes recently, looking at microbiomes in different environments and maybe how that affects our health and the health of ecosystems," Avalos said.