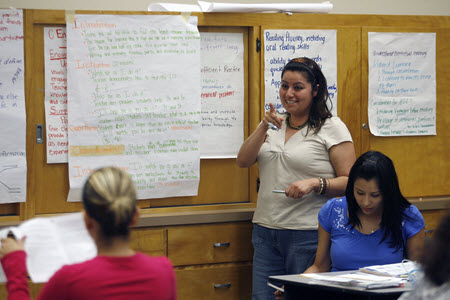 Stanislaus State is one of 17 California State University campuses to have earned Integrated Program Grants from the California Commission on Teacher Credentialing to develop four-year teacher preparation programs.
The grants are designed to help ease California's K-12 teacher shortage with a special focus on expanding the number of teacher candidates earning STEM (science, technology, engineering and math), special education and bilingual credentials — the most critical areas of need for teachers in California.
"This important grant will help Stanislaus State continue to serve the needs of our region through preparing the next generation of highly qualified and effective STEM teachers who will be critical to educating the next generation of science and math literate students," said Stanislaus State President Ellen Junn. "I stand with our dedicated faculty and our campus in sharing pride that we've been chosen for this grant and I can't wait for this new four-year credential program to begin."
Stan State's $240,127 grant will be used to develop four-year teacher preparation programs, designed to enable qualified students to complete both a B.A. degree in Liberal Studies and a credential in four rather than the usual five years.
CSU-wide, the $5.19 million in grants from the Commission will allow 16 additional member institutions to create four-year teacher credential programs to join the seven institutions that already offer the programs. Not only does a four-year program save a student around $20,000 by eliminating a year of schooling, but it will increase the number of teacher candidates graduating annually. The new four-year programs will begin with the 2018-19 academic year.
According to Marquita Grenot-Scheyer, assistant vice chancellor of the Teacher Education Program and Public School Programs, teacher candidates will be eligible for $16,000 in state and federal grants, making the process even more affordable.
"As a statewide innovator in teacher preparation, the CSU is uniquely poised to offer these new four-year blended teacher training programs," Grenot-Scheyer said. "There's never been a better time to enter the profession given these new flexible credentialing options and financial incentives."