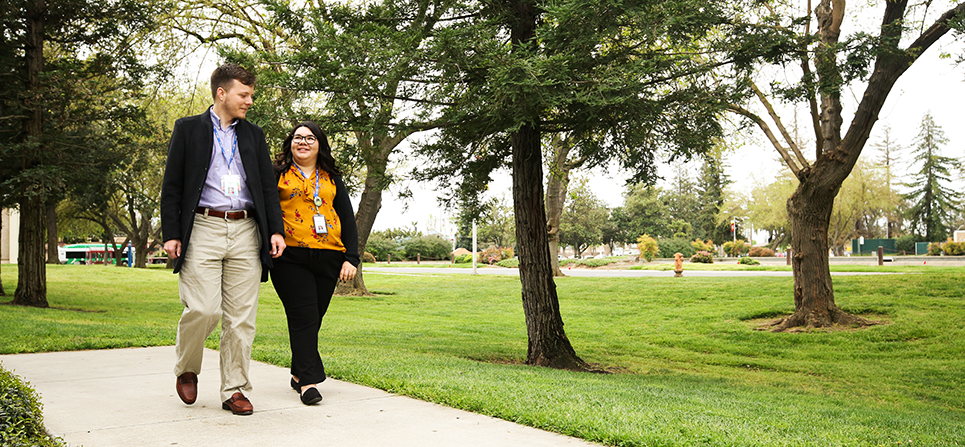 Jennifer Gutierrez is the new victim advocate at Stanislaus State. She joins sexual violence educator Ethan Dawson as a resource for students, staff and faculty through a partnership with Haven Women's Center of Stanislaus. 
Gutierrez worked with Haven as a trauma response advocate, responding to hospitals and sexual assault calls, before taking the Stan State victim advocate post in March. She provides on-campus confidential support to victims offering a safe space to speak, ask questions and learn about options. 
"We work with victims, talking through the trauma," Gutierrez said. "They ask, 'Why is this happening?' With trauma, there is something going on in your brain." Victims are each unique, but they are not alone. Their stories typically have similar threads. 
Key to her advocacy is meeting each victim wherever they are on that path. "With sexual assault, it matters where you're at. They may not be ready for some discussions yet," Gutierrez said. She also helps individuals grappling with fear of re-assault assess risks and plan for safety. 
Sexual assault varies from other assaults in that it has a more intimate dimension and can have life-altering consequences, such as pregnancy or HIV. At its core, sexual assault takes away control, Dawson said. "It's a taking away of dignity. It is an invasion on a deeper level." 
Dawson graduated in 2018 after several years as a housing resident advisor. He works to prevent sexual victimization through education and outreach, talking to groups on campus, leading the student club Stan Together and conducting presentations. 
"There's a lot of misinformation out there. Sexual assault is not always in the dark by a stranger. Most of the time it's someone you know. Someone you trust," he said.  
Dawson is part of the University's outreach and education efforts related to affirmative consent. The "Yes Means Yes" approach requires clear, cognizant consent from an awake and aware partner. Someone who is silent, submissive or drunk is not giving consent. 
"There's also a lot of victim blaming," Dawson said. "But it's not on women to keep themselves from seeming sexual. It's on the aggressor to not sexually assault people." 
The first few months of the school year tend to have the most incidents, Dawson noted, especially with freshmen who may lack experience with alcohol. He works with University and on campus housing staff to target potential problem areas with outreach and relevant information. 
The University works to prevent sexual misconduct, dating or domestic violence and stalking, providing guidance and education, investigation and support for victims. The campus is dedicated to providing an inclusive and respectful campus climate.  
Contact the campus sexual assault victim advocate by email at victimadvocate@csustan.edu or by phone at (209) 667-3993. For 24/7 assistance call 888-45HAVEN.