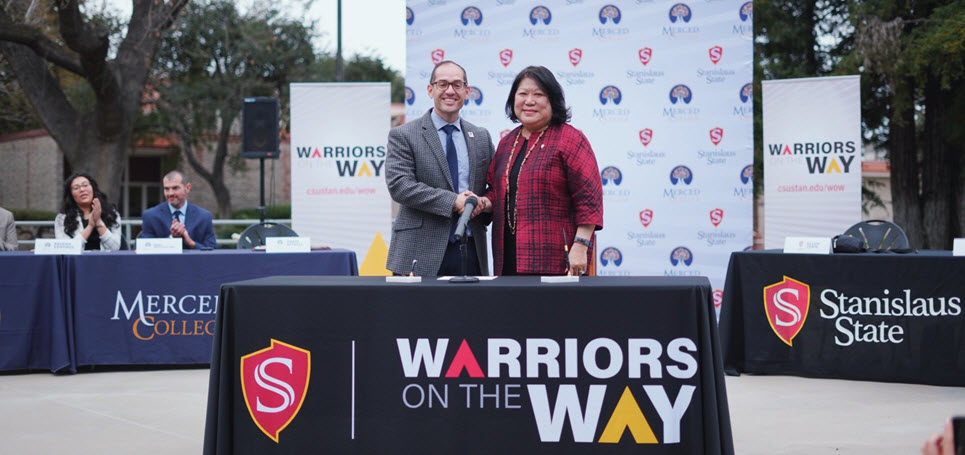 Stanislaus State and Merced College have forged a historic agreement that will further assist the transfer process of students and enhance access to higher education in the region.
On Feb. 21, Merced College Superintendent/President Chris Vitelli, Stan State President Ellen Junn and other leaders from both campuses signed a memorandum of understanding (MOU) to create a clear path of transfer for Merced College students to earn undergraduate degrees at Stanislaus State.
"The relationship between Stan State and Merced College has been going strong for nearly 60 years, and agreements such as this will go a long way toward making certain the regional ties between our two great colleges will continue to thrive through the coming decades," said Stan State President Ellen Junn.
The MOU promotes Merced College's associate degrees for transfer (ADTs) through the "Warriors on the Way" (WOW) program and symbolizes a renewal of the institutions' commitment to work together to smooth the transfer process for students. 
"The majority of the Merced College students who use this program to transfer to Stanislaus State will stay in the area and give back to the community," Vitelli said. "They'll be productive members of this society, contributing to communities that need it the most."
The goal of the MOU is to attract qualified Merced College transfer students to Stanislaus State, to facilitate an efficient transition for those students and to increase the number of Merced College students who complete an Associate Degree for Transfer (ADT).
"Before I got into this program, I felt lost," said Brianna Sanchez, one of the first Merced College students to enter the WOW program. "I'd get an email that told me I had to apply, and I had no idea about that. This program answers all the questions, step by step, so you don't have to feel lost or feel alone."
Sanchez, who attended Atwater High, plans to major in communication studies at Stanislaus State beginning this fall, with the goal of becoming a college counselor.
"This partnership is great for Stanislaus State and Merced College, but it's really great for the students," she said. "With the help I've received here, I feel ready for Stanislaus State."
As part of this agreement, Merced College students who complete their ADT in a similar major as offered at Stanislaus State and meet all of Stan State's application deadlines will be guaranteed priority admission. The MOU also calls for new investments in staffing and resources that will lead to additional academic coordination and faculty and student engagement between the two colleges.
In addition, Stanislaus State will provide a WOW counselor or advisor to be placed on the Merced College campus for up to 32 hours per week for the purpose of making certain students seeking to transfer through the WOW program have access to necessary information and tools.
"One of the most important shared missions of Stanislaus State and Merced College is to encourage, support and help more students from some of the region's most underserved communities attain a college education," Junn said.
"Working closely together, we are confident that this agreement will help foster a better-educated, highly skilled and promising, prosperous workforce in the Central Valley."