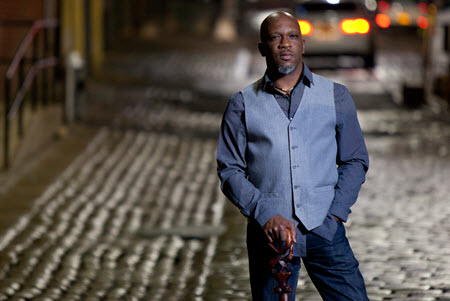 As director of the annual Stan State Jazz Festival, one of the first items on Joe Mazzaferro's list is finding a national A-list musician willing and able to both instruct and inspire the young high musicians attending the festival workshops.
Sometimes, it's not easy.
"There are some artists who regularly do this and others who don't," said Mazzaferro, Stan State's Coordinator of Jazz Studies since 2012. "Every year I shoot for the stars, and the only one I got on the first try was (bassist) Christian McBride, who regularly does that kind of stuff."
Sometimes, Mazzaferro admits, lining up the featured guest can come down to fortunate timing, and that was the case this year with pianist Orrin Evans, who will lead this year's festival Fri.-Sat., March 2-3.  Evans will perform with the Stan State Jazz Ensemble on Friday night, then lead his own trio to close the festival on Saturday night. Both performances will be at Snider Recital Hall and tickets are available online.
The Philadelphia native, who has recorded more than 25 albums as a leader of bands of varying sizes, not only is busy with his own trio, but on Jan. 1 joined one of the jazz world's most original and ground-breaking trios, The Bad Plus.
"I had wanted to bring Orrin here for a long time, and when I heard he was joining The Bad Plus I figured he would be really hard to get," Mazzaferro said. "But it turned out that he was available and that the first part of March was going to be one of his few times off in a six-month span."
Landing a big-name musician for the festival serves many purposes. It attracts attention, and the last few jazz festivals have brought upward of 300 high school musicians, whose registration fees partially underwrite the fees of the featured performers as well as the stipends paid to the clinicians Mazzaferro brings in for the festival's seminars.
And once the high school and college students get the chance to sit down, observe, listen and perform with the clinicians and featured performers, magic happens. It's an experience available to most of the participants only at a festival of this kind.
"When Christian was here the kids were so nervous at the first rehearsal, and at the end of the first tune, he just leaned back and said 'cool,'" Mazzaferro said. "Just seeing him react like that made them realize right away that he was a good guy in addition to being a great musician — that he wasn't going to be a diva or be judgmental.
"The other thing is that the kids start realizing the amount of knowledge these guys have and how much they've studied to get to where they are, and that even at their level, they're still continuing to learn."