Whether it's hearing award-winning author Ibram X. Kendi speak or learning more about "Braiding Sweetgrass" from Robin Wall Kimmerer, the upcoming Association for the Advancement of Sustainability in Higher Education's (AASHE's) virtual Global Conference on Sustainability in Higher Education offers something for everyone.
Thanks to its virtual nature — and Stanislaus State serving as a host institution — everyone with a Stan State email address may attend any of the sessions during the event scheduled Oct. 20-22.
Registration is free with the access code sent to the campus community in Warrior Weekly and Stan Events and Announcements: CSUSTANEDU092820. Those unable to attend live sessions may access them for 30 days after the conference's conclusion.
With a theme of "Mobilizing for a Just Transition," the conference addresses the intersection of social justice and environmental justice. Hence, Kendi, whose 2019 book "How to Be an Antiracist," — described by the New York Times as a 21st century manual of racial ethics — will speak at 10:30 a.m. (PDT) Wednesday, Oct. 21.
Kimmerer, whose book "Braiding Sweetgrass" was given to every Stan State staff member last year, will discuss indigenous practices and connections to the land at 6 a.m. (PDT) Thursday, Oct. 22.
Breakout sessions and discussions focusing on social and environmental justice are aimed at every segment of campus. There are seven tracks of engagement to help guide interested attendees: Campus Operations, Culture and Communications, Emerging Issues, Equity in Online Learning, Governments and Administrations, Public Outreach and Engagement, Racial Equity and Social Justice, Student Organizing and Activism, and Teaching and Learning.
"Everyone who works at the University will find something interesting to them," said Wendy Olmstead, sustainability coordinator, who made Stan State a host institution, thus opening the conference to the University community.
The virtual conference is a result of the COVID-19 pandemic, but Olmstead said this may establish a norm for future sustainability events.
"I can't tell you how many sustainability conferences I've attended where people say, 'I can't believe how many greenhouse emissions I'm responsible for by flying here,'" Olmstead said.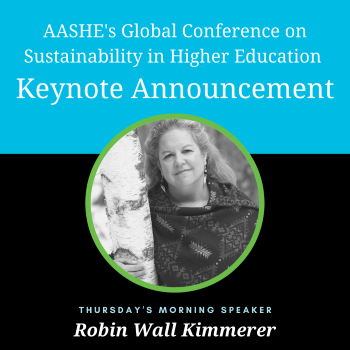 With a virtual event, neither the environment nor personal connections are damaged.
"I've been to two virtual conferences in the last year, and I got more out of them and met more people because of breakout rooms," Olmstead said. "There's more networking. I've been in touch with people from Italy, France, the United Kingdom and the Philippines. In a lot of ways, being in a virtual world has made us more globally connected."
Olmstead hopes campus community members will embrace this opportunity to connect with others globally.
"I am getting so much out of the relationships I'm building worldwide, and there's so much potential for others to do the same," she said. "They can connect and network with other schools across the country, Canada and potentially globally. How it impacts teaching and learning is phenomenal. The possibilities are endless."
AASHE consists of more than 900 member colleges and universities in 22 countries. In addition to providing learning opportunities, making Stan State a host institution was a strategic move on Olmstead's part.
"Part of what I love is that it further places us on the national stage as a sustainability leader," Olmstead said. "It gives us more visibility in the realm of sustainability as a campus."
More information about the conference and registration is available at AASHE. Note that the scheduled times are EDT.