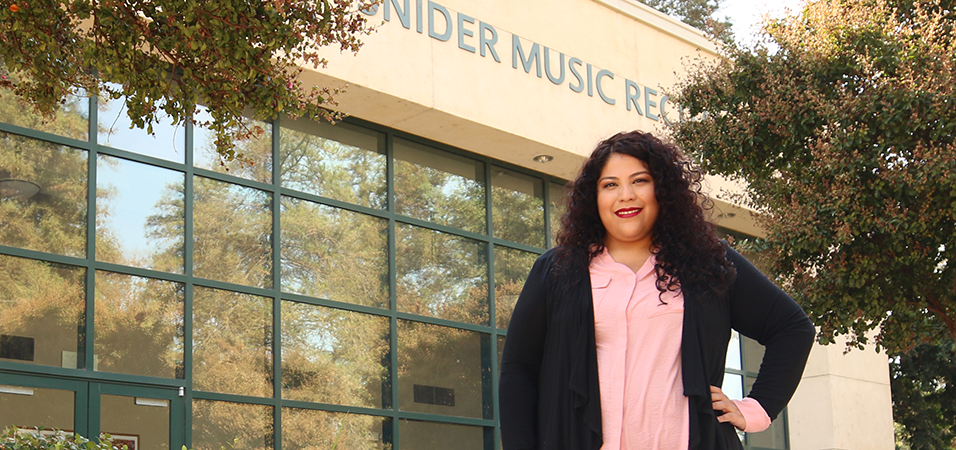 Mia Alvarez's turn on stage during the Stan State music department's fall performances came on Oct. 25, when Daniel Afonso led the mixed, chamber and jazz choirs in Snider Recital Hall.
That doesn't mean the junior from Fresno, a choral music education major, wasn't present for the other department shows.
"You always see music students at these concerts," Alvarez said. "Every time I come off stage, there's a music major in the hallway saying, 'great job.'"
Sometimes, she's the one offering the congratulations.
"It makes me really realize that every medium is important," Alvarez said. "Every performance we do, whether it's choir or guitar, or wind ensemble, everything is unique in its own way; it has something to offer and it's special to be a part of that."
Alvarez, a first-generation college student, didn't make the typical journey to becoming a music ed major. She was shy in high school, more likely to be found in the Fresno High School library reading "Gone With the Wind" than on a stage. But, she needed to take one more elective as a senior and asked her counselor, almost in a whisper, "Can I take choir?"
Yes, she was told, but she had to audition.
That she could sing wasn't in doubt. She loved to sing and "when your family starts to ask you to sing at events, you become more self-aware," Alvarez said.
She passed the audition and was a part of the choir, but it was a small program always in search of resources, Alvarez said.
When she started classes at Fresno City College, she asked about choir there, and a counselor told her there was no choir. She found out otherwise during her second year on campus.
"I stumbled into a hallway looking for a different class I was registered for, and I guess I got the time wrong," Alvarez said. "I walked by and I saw somebody I knew from high school and she said, 'Are you here for the choir audition?' and I said, 'Wait, there's a choir here?' So I stood in line and auditioned, and that's how I got into the choir there."
She'd already tried psychology and child development as majors and joined the choir as a hobby. But before long, Alvarez realized music could be a career.
She chose to attend Stanislaus State, following friends who'd ventured north to Turlock, and "I have never regretted my decision," she said.
"It's given me more opportunities for responsibility and given me a more focused curriculum," said Alvarez, in her third semester at Stan State. "What I learned at Fresno City was the foundation, and here, we're diving into the core classes: choral methods, choral literature, things like that. Diving into the medium excites me every time I come to school."
Performing isn't her passion, but she enjoys being a part of the choral groups.
"It's not where my heart is," she admits. "I was inspired to become an education major based on my own experiences. My goal ultimately is to take the skills I learn here and take them back with me to Fresno to shake up the support and funding for music programs there. I think it's so important."
Becoming a music ed major has allowed Alvarez to find her voice. She's no longer timid about speaking with peers or professors. Making that discovery, she said, was like Charlie walking into Willie Wonka's chocolate factory for the first time and seeing all it had to offer.
"It was my golden ticket," she said.
 
---

View the full season of music events and get tickets to add a student, faculty or guest artist performance.