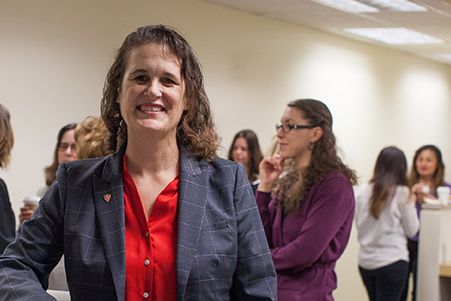 There's a small sign tacked to the bulletin board of Stan State's new Career and Professional Development Center that asks, "What can I do with my major?"
When you consider, according to the Economic Policy Institute, that college graduates make on average 56 percent more than those who only hold a high school diploma, the sign on the bulletin board is asking, literally, a million-dollar question over a lifetime of earning.
Stan State revitalized its Career and Professional Development Center after a nine-year absence. Located in MSR 230, Director Julie Sedlemeyer heads a four-person staff dedicated to making sure students have the resources necessary to envision and plan a route toward their post-graduation careers.
Sedlemeyer, a Kansas native and Kansas State alumna, came to Stan State last fall after serving as associate director for 18 years at San José State's career center.
"This was an interesting opportunity for me in that there hadn't been a Career Center at Stan State in many years, so it was a chance to build this program," Sedlemeyer said. "Also, as a first-generation college graduate myself, I'm passionate about being able to serve first-gen students. It's wonderful that I get to help students see their career opportunities."
During an open house on Feb. 1, Stan State President Ellen Junn explained that the role of a Career and Professional Development Center at Stan State is more important than at many campuses because of the student body demographics.
"Many first-generation students tell me there's pressure on them right out of high school to get a job," Junn said. "Some say their parents don't understand why they're postponing getting a job to go to college. So, it's more important at our University to have this kind of Center, to be able to connect what our students are studying here with their future careers."
The Career and Professional Development Center provides services in three areas:
Career Coaching: One-on-one meetings with students to help with job and internship search strategies, interviewing tips, graduate major choices, school options, career planning, resume tips and more.
Career Education: Workshops and seminars in many of the same areas covered during coaching. In addition, the Center can offer tips on salary negotiation, networking and many other areas. The Center also is coordinating Stan State's "Designing Your Tomorrow" program. This seven-week continuing education course, based on a very successful program at Stanford University, begins in March and is structured to teach students the principles they need to design a fulfilling career and to visualize the path to that career goal.
Career Connections: Staging opportunities to connect with alumni and potential employers in the region through job, career and internship fairs.
"We're reestablishing career services not only at the Turlock campus but also at the Stockton Center," Sedlemeyer said. "We'll be offering drop-in counseling at the Stockton Center one day a week, as well as workshops and a Spring Job Fair in Stockton on April 12. On the Turlock campus, we have two career fairs in February."
Upcoming events include Warrior Career and Internship Fairs in MSR 130 from 11 a.m.-3 p.m. on Feb. 27-28. In addition, the Center has partnered with J.C. Penney at Modesto's Vintage Faire mall for a "Suit-Up" event from 8 a.m.-Noon on Saturday, Feb. 24, during which Stan State students can receive advice on dressing professionally and will receive an additional 40 percent off suits, dresses, sport coats, dress pants, shoes and accessories. Visit the Career and Professional Development website for a complete list of events.
All of the programs offered at the Career and Professional Development Center are geared toward giving Stan State students the best chance to enter the professional world with confidence, prepared to embrace their full potential.
"All of our students have a dream to do something meaningful — something beyond the norm," Junn said. "This Center can help them attain that dream."