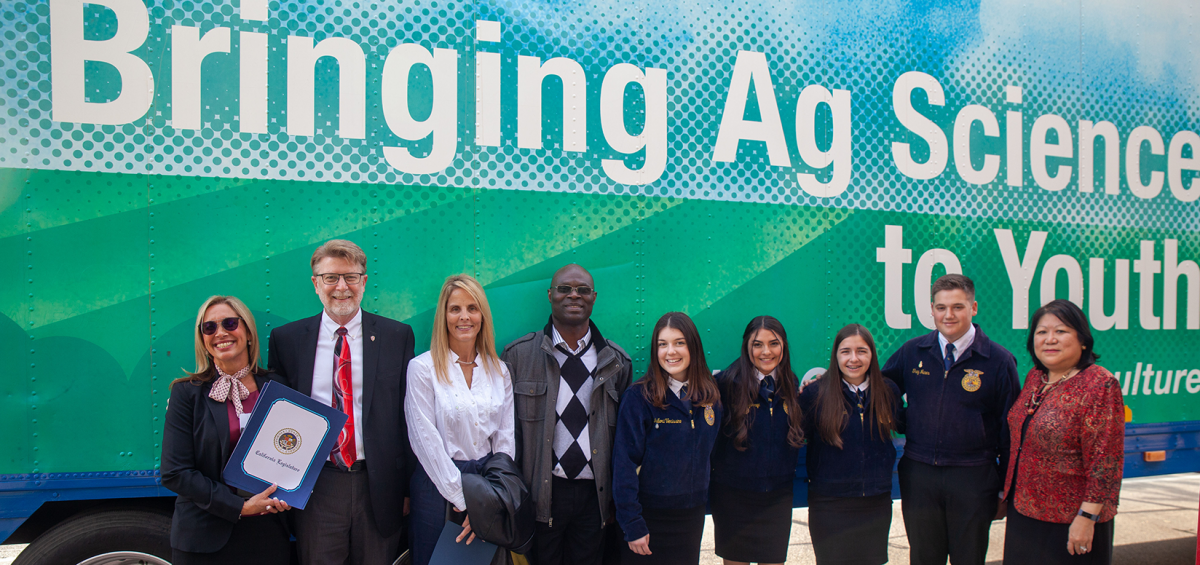 Stanislaus is the second-highest producing agriculture county in California, but the industry's bounty extends beyond the grapes, almonds and other crops that thrive in the valley's rich soil and dry heat.
Growing the understanding about the vast opportunities in the agriculture industry for students of all ages is behind the partnership between Stanislaus State and the Stanislaus County-based National Ag Science Center, which announced its partnership during a press conference on Nov. 13.
"So much of what we do at Stan State has relevance to the agriculture industry – be it in science, computer science, arts, behavioral health, public policy, etc.," said David Evans, dean of the College of Science at Stan State. "This partnership with the National Ag Science Center can help to bring attention to these cross-curricular relationships and will create new opportunities for the University to serve the agriculture community in our region."
Students aren't the only ones who will benefit from the opportunities provided by the partnership. There will also be a focus on leveraging industry relationships and having dialogue about the needs of the ag workforce.
"What ag businesses are realizing is they are employing our graduates," said Stan State President Ellen Junn. "Foster Farms has around 80 of our alumni working for them. They're not all ag students but in IT, computer science, human resources, accounting, a whole variety of job sectors. This lets industries know our students are part of their work pipeline."
For its part, the National Ag Science Center, founded in 1996, gains a greater platform from which to operate. The partnership with Stan State will qualify the National Ag Science Center for additional grant opportunities, while increasing Stan State's outreach in ag and STEM fields.
"I see overlap, a lot of opportunity to work together," said Oluwarotimi Odeh, professor and Rolland Starn Endowed Chair of Agriculture, who oversees the Stan State Ag Ambassadors program. "We can tap into resources they have and use connections they have already made."
National Ag Science Center Director Emily Lawrence is excited to share those connections, but also looks forward to expanding the educational outreach with Stan State's connection. As part of the partnership, Lawrence is joining the Stan State staff.
"I love to reach kids in STEM pathways who are not in ag," Lawrence said. "For a whole bunch of kids not in ag, they think it's picking, dirty, seasonal, farming. As soon as I say ag technology is the fastest-growing technology, their eyes light up, and as soon as I say drones, you could hear a pin drop in the room."
The ag science center's most prominent feature is its Ag in Motion mobile classroom, which made a stop at Stan State for the announcement.
Inside the moveable feast are labs that 15,000 students — all seventh- and eighth-graders in Stanislaus County, south San Joaquin County and a portion of Merced County — experience throughout the school year.
There are hands-on lab activities such as "CSI Strawberry," where students extract DNA from one of the 200-seed pieces of fruit, and "Astronaut Farmer," where students determine whether crops can be grown on the moon. A microscope allows students to look at magnified bugs in the "Zombie Bug Lab."
"It's an amazing opportunity. I truly, truly love it," said Andres Dorado, a 2018 Stan State graduate who teaches the classes inside Ag in Motion. "Most of these students don't have any experience or opportunity to perform hands-on experiences in their classrooms, because many of the schools I visit do not have actual laboratories. It's really nice giving these students the experience of learning about agriculture and science in a hands-on setting."