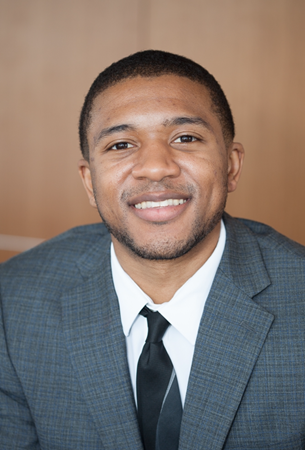 Micah Robinson arrived at Stanislaus State as a transfer student from Antelope Valley College intending to run for the Warriors track team, but an ankle injury sidelined the 400-meter specialist. 
"I didn't make an attempt to come back to the track team because I thought, 'I'm going to make people respect me for my mind and not for my physical abilities,'" said Robinson, a 2018 Stan State graduate. 
Robinson proved himself as a high school athlete in Lancaster, playing cornerback on the Paraclete High football team in addition to competing in track. He continues to prove himself in the classroom as a first-year law student at UC Hastings Law School in San Francisco. 
"I know there's a lot of power in a law degree," Robinson said. "Even if I choose criminal law now, nothing's stopping me from going into business law or something of that nature in the future. Most of all, it would allow me to make a lot of change in my community." 
By community, he doesn't only mean Palmdale (near Lancaster), where he was born and raised as one of seven children.  
"I'm in the African American community as well," Robinson said. "I want to be able to translate the legal system to these communities. Also, once I establish myself financially, I want to set up programs to put other people on that path as well." 
One of his brothers recently passed the bar exam and is working as a prosecutor for Contra Costa County. Once Robinson is established as an attorney, he said the two hope to start a scholarship fund. That's down the road. For now, he's adjusting to law school in San Francisco, where he's still in the minority. 
"I think my law school has 17 black people," he said. 
It also has graduates of Harvard, Yale, Stanford and other elite universities. 
"I did well," Robinson said after completing his first semester. "It's very, very hard. But I knew it was what I wanted to do. The biggest hump was making sure I told myself I belong there. That's the biggest thing that holds students back that come from similar backgrounds. They might feel students from bigger schools are smarter or things of that nature. I just have to remind myself I'm there for a reason." 
Robinson, who took a year off after his 2018 graduation to prepare for and take the LSAT, said he was ready for law school. 
"The thing is, with law school there's no specific bachelor's degree you must have," Robinson said. "But my sociology degree, my experience at Stan State and everything I did there prepared me."  
Robinson was active at Stan State. He joined the Theta Chi fraternity to meet people and was a member of the President's Commission on Diversity and Inclusion. He was a peer academic counselor and vice president of the Black Student Union. And he started the podcast "Black at Stan" because he wanted to give black students a voice. 
"The Black Student Union played a big role in my experience at Stan State," he said. "It gave me that comfort zone. I always told myself I wanted to make an impact in my community. Even though it's on a micro scale in the grand scheme of things, it gave me the feeling I was doing something and I was helping people." 
He helped people so much that he earned the 2018 Judge and Alverta Hughes Humanitarian Award at the Stan State Student Leadership Awards for his volunteer service to the community and having a positive impact on the lives of others when he graduated. 
He has tremendous love for Stan State, which he calls "charming" and said embraced him from the time he arrived. Robinson lauds sociology faculty members Jennifer Whitmer and Dana Nakano, and he connected with President Ellen Junn, who was the first guest on his podcast. 
One semester of law school reaffirmed his long-held dream. 
"What excites me about the law is I know how much power it has," Robinson said. "All aspects of our lives, everything we do, there's some law governing it. If there isn't, there will be soon. 
Initially as a kid, I was thinking I could make so much money as a lawyer. But the law can be a powerful tool for people who really need it. That's what really excites me."