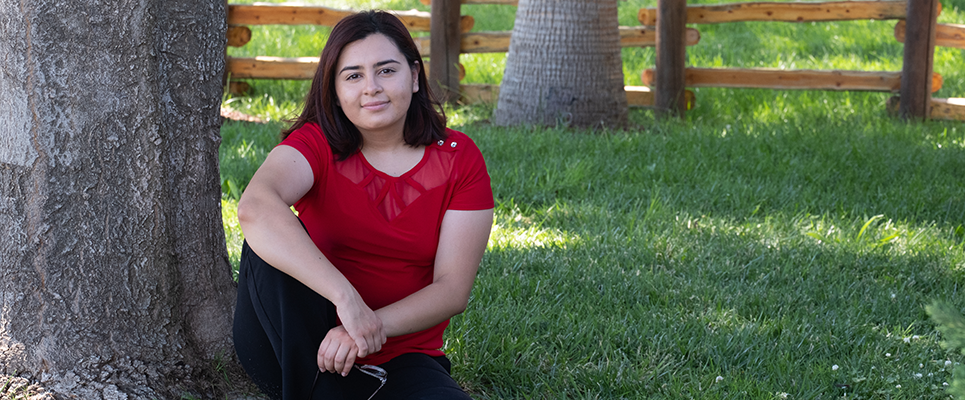 Guadalupe Marquez and her single-mom, Silvia, are best friends.
As Marquez pursued her college education, she watched her mom come home from her job at the local Foster Farms processing plant exhausted. Silvia Marquez would eat dinner and head to bed. One night, though, Guadalupe curled up next to her mom in her bed.
"I lay in bed next to her and woke her up," Guadaulpe Marquez said. "I said, 'guess what? I got the scholarship — the President's Central Valley First-Generation Scholarship — to go to Stan State.' She immediately woke up and hugged me and told me she was super proud. That makes me work harder. She's working her tail off at Foster Farms, and I want to one day take care of her."
If her success to date is any indication, Marquez will make that dream come true.
Not only will she transfer to Stan State with the scholarship worth $12,500 for each of the next two years, but she has been accepted into the University Honors Program, which helps first-generation and underserved students prepare for and apply to graduate school.
In fact, it was her acceptance into the University Honors Program that steered her toward the President's Central Valley First-Generation Scholarship.
"Dr. Ellen Bell contacted me saying I was accepted into the University Honors Program, and told me I could apply for the First-Generation Scholarship. I went for it. I'd been looking for scholarships on the Stan State website. I'm from a low-income family and applied for various scholarships."
Marquez is driven, not just to be the first in her family — she has four older siblings — to graduate, but to find meaningful work as a result of her education.
"My whole family has worked in manual labor. I see how hard it is for them," Marquez said. "My mom has worked at packing plants and comes home with aching joints and tired hands. She developed a callous on her foot and needs physical therapy for it. I realized that I didn't want to put myself in that position. I realized with an education I could see myself not forcing my body to go into shock like my mom has. I realized I could better provide for my family if I got an education, rather than if I went straight into the workforce."
Her quest began at Buhach Colony High School, where she not only was aided by a circle of college-bound friends but was inspired by one of her teachers in particular.
"I had a Mexican-American teacher for world history named Ms. Veronica Serano, and she is also a Latinx woman," Marquez said. "She went to college after immigrating from Mexico City. It was amazing to see a woman like me, whose parents immigrated from another country, go to a university. I saw a representation of myself. I appreciated her. She was always there for us. She was able to help us visit colleges. She pushed for us to reach our potential."
Marquez enrolled at Merced College with an eye on psychology but ended up majoring in sociology, although she also earned associate degrees in psychology and behavioral and social science. She'll pursue sociology at Stan State, where she looks forward to a graduation ceremony, having missed hers at Merced College.
The one graduation experience she had, from high school, lingers in her memory.
"I always told my mom I'd graduate with a white honors robe. It was surreal to walk down that stage with that honors robe and see my mom watch me accomplish my dream," Marquez said.
As her classmates donned black and gold robes, she wore white, a color of distinction. It's just one of her dreams. There are more on her horizon.
"I envision myself majoring in sociology and going into social work or guidance counseling," Marquez said. "I want to give back to my community like my world history teacher at Buhach Colony did. I want to help first-generation students, too. I want to help them achieve a career."