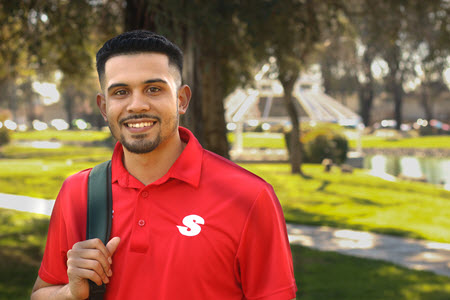 Jordan Santa Maria is a student, college basketball player, podcaster, soon-to-be-graduate, budding basketball coach and a great example of how one person can take advantage of the doors that Stan State can open.
Sometimes, all you need to do to open that door is to ask.
Coming out of high school in Alameda, the communications major (psychology minor) declined a partial basketball scholarship to Dominican University to attend Stanislaus State, thinking that his basketball career might be over.
But at the start of his second year at Stan State, he knew that playing competitive basketball was an itch that needed more scratching, so he approached men's basketball coach Larry Reynolds about trying out for the team as a non-scholarship walk-on player.
That was Santa Maria's Ask No. 1.
"I got a tryout and was scared, but after two weeks I got a nameplate on top of my locker, so I knew I'd made the team," Santa Maria said. "From there, it was a matter of competing every day and getting better."
By the time the 2017-18 season came around, Santa Maria had earned playing time, and saw action in about half the Warriors' games this season. Earlier in his career he got the chance to speak with Stan State athletics radio voices Eric Davis and Bryan Nelson of Blue Chip Broadcasting and was intrigued. He inquired if they needed an intern.
That was Ask No. 2.
"I have a cousin who is a DJ and a radio personality in Hawaii and that gave me the bug early," said Santa Maria, who helps Davis and Nelson on baseball and women's basketball broadcasts, and is the host of the show that fills the time between doubleheader games. "I was amazed being around my cousin because he has an around-the-family voice, and then when he goes on the air he sounds like the guy doing a Hollywood movie preview. I always liked that, and talking into a mic has never scared me."
In addition to the internship, Santa Maria took a work-study job at Stan State campus radio station KCSS, basically making sure the studio was kept clean.
"The folks at KCSS found out I had interned with Blue Chip Broadcasting, and Greg Jacquay (general manager) at KCSS suggested I learn how to engineer podcasts in the production room," Santa Maria said. "I started out engineering and listening and decided I could do my own. I always listen to the guys on ESPN and my roommate and I decided to do it. We talk about basketball and that's how No Layups came about."
That was Ask No. 3.
Podcasts, as Santa Maria admits, can be frustrating at times. No matter the work you put into them or the quality of the end product, there's almost no way to guarantee that anybody will listen.
"Sometimes the numbers are disappointing because you put together the content that you think is great and you only get a couple listens. You have to start somewhere," he said. "But I'm getting experience talking into the microphone."
Santa Maria will be graduating this spring, and his career as a basketball player likely is over. On the other hand, he wants to stay around the game, which he could do either as a broadcaster or as a coach. So again, he approached the Stan State basketball coaches with the prospect of staying in the program as a volunteer coach for the 2018-19 season.
That was Ask No. 4.
"With my communications degree, all directions for me are pointing toward some type of radio broadcast or analysis work," he said. "I have to make connections, keep creating content, and being with Bryan and Eric has been a good first step along with working at KCSS. I still love basketball and would like to coach — I'm so happy the coaches are giving me the opportunity to coach.
"This has been a great journey, for sure."