CSU Stanislaus Program to Receive $16,000 Through 'Quarters for Conservation' Program to Fund Student Research on Endangered Brush Rabbits and Woodrats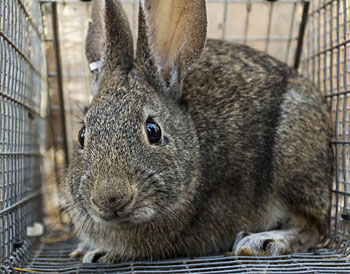 The Endangered Species Recovery Program received $16,000 from the Sacramento Zoo for its research on riparian brush rabbits and other species.
​
Thanks to its ongoing relationship with the Sacramento Zoo, the Endangered Species Recovery Program (ESRP) at California State University, Stanislaus will receive $16,000 in funding for its research on riparian brush rabbits and riparian woodrats at Caswell Memorial State Park near Ripon.
The money comes from the zoo's Quarters for Conservation program, in which each zoo visitor is given a token that they use to vote for one of three projects. Each project has already received $5,000 in startup funding, with additional funding based on the number of votes received.
ESRP will receive an additional $11,000 by way of the voting by zoo visitors, and a check presentation ceremony will be held as part of the Sacramento Zoo's Earth Fest event on Saturday, April 5. Patrick Kelly, CSU Stanislaus zoology professor and coordinator of ESRP, said the program will use its portion of the funding to help pay for student researchers.
"This funding is going to provide real, hands-on research experience in field biology for our majors, especially those who are interested in careers in ecology or conservation biology," Kelly said. "We deeply appreciate the support from and partnership with the Sacramento Zoological Society and the UC Davis School of Veterinary Medicine on this and related projects."
Established in 1992 by CSU Stanislaus Professor Emeritus Dan Williams, ESRP brings together federal, state and local agencies, non-governmental organizations, corporations, and private landowners in a cooperative research program focused on the recovery of threatened and endangered species. Since 2000 alone, ESRP has been awarded close to 100 grants and contracts totaling more than $23 million. Funded projects annually support 12 to 45 biologists, support staff, students and research associates at CSU Stanislaus, as well as in Fresno, Bakersfield and the Mojave Desert.
Much of the campus staff's work has focused on the riparian brush rabbit — one of the most endangered animals in North America — but ESRP has also conducted research on the San Joaquin kit fox, Mohave ground squirrel and many other species. For students who get to take part in the work, the experience is invaluable.
"Assisting ESRP with field research has been one of the most rewarding experiences in my education," said Elizabeth Parks, a Stockton native and a senior biology major. "While all of my classes emphasize the importance of conserving wildlife — particularly native species like riparian brush rabbits and riparian woodrats — there is no substitute for braving the thorny brush to make a real difference in the field."