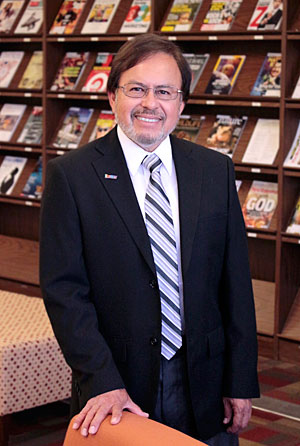 CSU Stanislaus has announced the appointment of Ron Rodriguez as Dean of Library Services, effective Aug. 1. Rodriguez replaces Annie Hor, who will return to the library faculty after serving for nearly five years as interim dean.
Rodriguez comes to CSU Stanislaus from Cal State Fullerton's Pollak Library, where he worked for eight years as Access Services Unit Head and Coordinator of Library Development. He also has seven years of experience as Associate Dean of the Leatherby Libraries at Chapman University.
"Mr. Rodriguez has a wealth of library and administrative experience," said James T. Strong, Provost and Vice President for Academic Affairs. "I am looking forward to the leadership he will bring to the library and the University."
Rodriguez said his first priorities in his new role will be working with faculty, staff and students to enhance the library's print and online resources, improve the library as a place to study, collaborate and conduct research, and ensure the library keeps pace with CSU projects like the Libraries of the Future initiative.
"The University Library has talented faculty and staff who are looking forward and are ready with creativity to work on the opportunities ahead," Rodriguez said. "I look forward to meeting the campus community in the coming weeks and months."