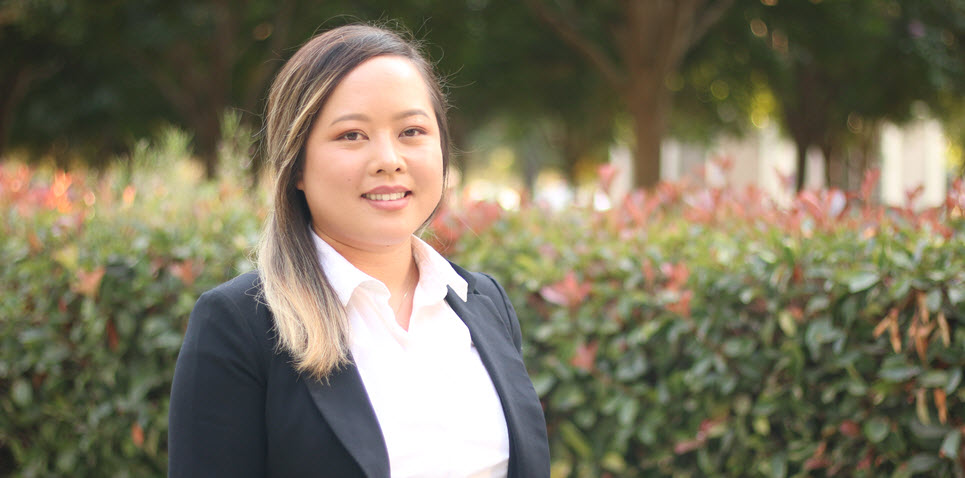 Ten years ago, Stanislaus State art major Ia Yang left her home in Laos and moved to Merced knowing practically no English — just the alphabet and the words yes and no. Today, she speaks English and three other languages fluently and is working toward becoming an art professor.
"I want to teach art because I want to be a role model for other artists," said Yang, an accomplished artist who plans to graduate with a bachelor's degree in fall 2020. "I want to encourage them to follow their dreams and believe anything is possible."
She would also like to share her Hmong culture through her art.
"I want more people to know that my beautiful culture exists," she said.
Yang is one of 20 Stan State students who were awarded a Mary Stuart Rogers Foundation Scholarship for the 2019-2020 academic year. The scholarships are given annually to students who demonstrate financial need and whose outstanding academic achievements are complemented by qualities of leadership, a commitment to personal growth and a desire to serve their communities.
The support the scholarship provides is important to Yang, who shares a small apartment in Merced with her family and commutes to Turlock five days a week for classes and a part-time job in the University Art Gallery.
"When I applied, I didn't think I had a chance to be a Rogers Scholar, but I thought it would be cool to be one," she said. "The scholarship really helps my family a lot."
Yang's life today is quite different from the one she left behind in Laos at the age of 12. There, she worked every day with her parents and four siblings on their small farm to grow enough food to feed themselves and earn a little money selling their extra vegetables.
"The life back there was hard," she said. "There were not a lot of job opportunities. My parents didn't have high school diplomas or college degrees, so the only way to get food on the table was farming. Sometimes I would pick up bottles on the street to sell for money to buy candy. That was the only way I could have candy and snacks."
Yang's family was brought to the United States through the Diversity Visa Lottery Program by her grandparents, who were Hmong refugees after the Vietnam War. Once here, she started picking up the English language by watching videos on the internet and socializing with fellow students who only spoke English.
By the time she entered high school, she was making good progress with English, and her innate talent as an artist had clearly emerged. Encouraged by her teachers, she entered a few art contests and won awards. Then, much to her surprise, the Merced Union High School District paid $300 to purchase a colored pencil drawing she did of an elderly woman at a Hmong New Year's celebration.
It was a shining moment that gave her confidence as an artist. But when she came to Stan State, she put her passion for art on hold and declared nursing as her major for the first two years.
"I was scared to make art my major, and I knew nursing would be a good profession with stable jobs," she said. "Then I took an art class and remembered it was my true passion. It was a tough decision to switch from nursing to art, but I decided to follow my dreams."
After graduating with a bachelor's degree, Yang plans to get a teaching credential and teach art at a high school while she saves money for a master's program. Regardless of whether she will teach in high school or college, she plans to encourage her students to follow their dreams by emulating her Stan State art professors, whom she describes as "amazing."
"They are always there for me and are always helpful," Yang said. "They challenge me to really push myself and take risks. It's hard to take a risk, but at the end of the day, it makes you proud of yourself."